It's a small corporate world after all…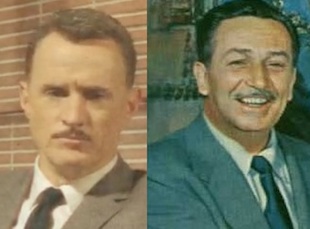 Posted by Matt Singer on
There are a lot of new characters in "Iron Man 2": there's the borderline unintelligible Russian physicist villain Ivan Vanko (Mickey Rourke), the borderline laughably spray-tanned American businessman villain Justin Hammer (Sam Rockwell), and the borderline leather fetishist spy chick Natasha Romanoff (Scarlett Johansson), not to mention a new actor (Don Cheadle) in the old role of Tony Stark's buddy Lt. Col. James Rhodes. But perhaps the most interesting of all the new additions is the one played by "Mad Men" actor John Slattery as Tony Stark's father Howard.
Mentioned ever so briefly in the original "Iron Man" as the founder of Stark Industries (and the buddy of Jeff Bridges's baddie Obadiah Stane), Howard Stark takes a much more important role in "Iron Man 2." A revamped version of Howard's "Stark Expo" becomes the site of many of "Iron Man 2″'s key scenes, and Tony (Robert Downey Jr.) watches numerous "vintage" newsreels of his father, like this one:
Howard Stark's thin mustache, closely-cropped hair, dark, conservative suit, and folksy dedication to the power of technology make him a dead ringer for Walt Disney during his time hosting the "Disneyland" television show on ABC. And "Stark Expo" is, essentially, Disney's original plan for EPCOT, which, unlike the theme park version that exists today, was originally envisioned as a utopian community with its own government and populace. Here's HowardUncle Walt talking about his plans for EPCOT on "Disneyland":
What makes the parallel between Howard Stark and Walt Disney so fascinating is the fact that last August, The Walt Disney Company acquired Marvel Entertainment. Now, nine months later, Marvel releases their first movie since the merger and suddenly Walt Disney is Iron Man's pops. I'm certainly not suggesting Marvel's new parent company demanded or even suggested the choice, because that would be impossible — principal photography on "Iron Man 2" started months before Disney's purchase — though the conspiracy theorist in me thinks the folks at Marvel Studios, knowing which way the wind was blowing, threw it in to get in good with their new boss. Nevertheless, the timing is incredible and, given Disney's talent for synergistic exploitation of their intellectual property, it may be just the first of many subtle injections of Disney elements into Marvel comics and films.
This may not be the last of the Marvel movie universe's Walt Disney, either. In an interview with MTV, "Iron Man" director Jon Favreau confirmed that Howard Stark will appear in the upcoming Captain America movie. "He would be much younger," Favreau said, comparing Stark's role in World War II (when "Captain America" will be set) to that of Howard Hughes. Fair enough. But maybe he doodles cartoons of talking mice in his spare time.
[Photos: John Slattery in "Iron Man 2," Marvel Studios/Paramount, 2010; Walt Disney, Disney, 1954]