Why no acting career should be considered irredeemable.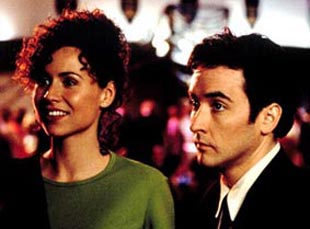 Posted by Vadim Rizov on
The Guardian's Joe Queenan likes to snark on books and and film, but with his latest salvo on in-flight entertainment, he seems to be just phoning it in.
Much of the piece is devoted to taking down two actresses with regrettable track records: Kate Beckinsale and Minnie Driver. If you're under the age of 20, you may not even be familiar with Minnie Driver (aka, that girl from "Good Will Hunting" who also has a singing career no one pays attention to), and you'll know Kate Beckinsale as the "Underworld" chick.
For Queenan, the two are automatic punchlines in the way mirthless stand-up comics fixate on airline food and the difference between black and white people driving: "Portable DVD players were, in fact, invented with the express purpose of circumventing Minnie Driver's career."
It's hard to blame Driver/Beckinsale for their career trajectories, insofar as it's hard to blame any actress for her career trajectory. (The lack of enough meaty roles for female actors of all ages is one of those cliches that holds true.)
Kate Beckinsale was perfectly creditable in 2007's "Snow Angels" and was long ago proving herself in "Much Ado About Nothing," but that's not going to pay the bills — rumors have her rejoining the "Underworld" franchise for a fourth installment. Minnie Driver, in the meantime, was an impressively on-point foil for John Cusack in "Grosse Pointe Blank," and was terrific in "The Riches."
What bothers me isn't the laziness so much as the assumption that there are certain performers who have proved themselves thoroughly beyond the point of potential redemption. It's a dubious theory in the post-Tarantino age, and one continually being disproved.
We live in exciting times: Ben Stiller sloughed off the schtick for "Greenberg," Nicolas Cage stopped sucking for "Bad Lieutenant" and "Kick-Ass." I'll go so far as to say that not even Gerard Butler is irredeemable. It's dangerous to conflate actors' abilities and the movies their careers can land them in.
[Photos: "Grosse Pointe Blank," Hollywood Pictures, 1997; "Underworld," Screen Gems, 2003]