Ozzy freaks people out at wax museum, record coming in June.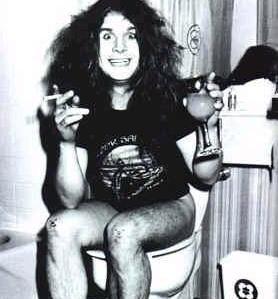 Posted by Brandon Kim on
This kind of blow out is too good to pass up, it's not Japanese TV quality (or lack thereof) but still a good time. Hey, advertising should be fun. Ozzy's album, "Scream" is due out June 22nd and all the gimmicks are in play.
[Ozzy Osbourne doing his thing.]
Who buys Ozzy records anymore I can hardly imagine… "professional" wrestling fans I'm told. I guess the WWF or the WWE or whatever uses Ozzy songs as their themes.
Christ. I'd rather bit the head off of a dove than watch that shit. Ozzy's a good egg though, deep down. Just see how he entertains the kids at Madame Tussauds Wax Museum in NYC.
Peep Ozzy's photo hunt too. Here's Sabbath's Paranoid from 1970 for good measure, that's the Ozzy I love.