"Gulliver's Travels," the best adaptation of them all.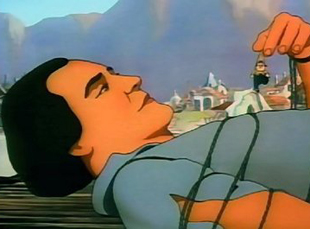 Posted by Vadim Rizov on
Since the film writing world has temporarily ground to a halt while everyone who can afford to go is in transit to Cannes, perhaps it would be well to consider some further-off coming attractions available for your hard-earned dollar. Generally speaking, one does not begin marketing December high-concept children's movies in May, but so it is with "Gulliver's Travels," which will give us an updated version with Jack Black (in 3D, duh) come December. By all appearances, what we have here is a kiddie movie redux that sticks solely to Lilliput (tagline: "Everything big is going down"). Call me crazy, but I think there are fat jokes forthcoming (in 3D).
The whole mess has been sufficiently mocked by the impatient souls at The Playlist, correctly pointing out that the poster looks like one of the ridiculous comedies Adam Sandler's character George Simmons starred in in "Funny People." Let's leave that be. It is, however, interesting that people keep trying to adapt clearly unfilmable novels like "Gulliver's Travels," despite the many failed precedents. As anyone who took Brit Lit I knows, "Gulliver's Travels" is a heady, toxic dose of satire that requires a lot of footnotes and context to really dig; the little people are just gravy. But that won't stop bad people from trying to film it, the same way there's always someone out there who thinks they've figured out the key to "The Odyssey" or "Ulysses" or "The Divine Comedy."
The film industry lusts after novels. Hollywood seems to believe implicitly that the ultimate validation of an important book is their attempt to film it, no matter how wonky the results. This is totally understandable: if you've ever read a truly outstanding book and wished there was a movie to prolong the fun, you get the impulse. An outstanding example of this covetous urge is the life and work of Scott Rudin, whose list of films in development practically reads like a roll-call of the highlights of the New York Times Sunday Book Review: "Special Topics in Calamity Physics," "Oh The Glory of it All," "The Brief and Wondrous Life of Oscar Wao" and, of course, the collected works of Michael Chabon.
What's interesting (I guess) about the new "Gulliver's Travels" movie is that it looks poised to do an end-run around the whole problem of how to translate a well-known (almost brand-name level) book to screen adequately by simply ignoring it, instead treating it as a "Night at the Museum" type set-up. And why not? It's not like anyone will ever get it right anyway. The urge to film everything is sometimes a blind alley; this decision is almost a "Tristram Shandy"-type solution. Otherwise you just end up with a TV version where Ted Danson looks embarrassed, and he's a hard man to embarrass.
[Photos: "Gulliver's Travels," E1 Entertainment, 1939; "Gulliver's Travels," Hallmark Home Entertainment, 1996.]