Giving the people what they want — whatever that might be.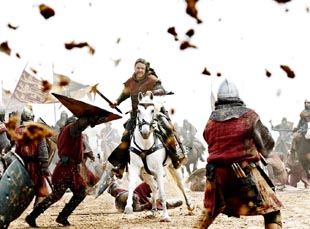 Posted by Vadim Rizov on
Every year, the Los Angeles Times' Patrick gathers an informal teen focus group to go over the summer's trailers and offer their thoughts.
Goldstein notes that this isn't precisely scientific — his past samplings, largely made up of private school kids ,were objected to by marketers as "not representative of typical American teenagers." So this year he got public schoolers from Orange County and ran the tests. (Aside: is Orange County — home of Disneyland, scrupulous political conservatism and the Richard Nixon Memorial Library — really "representative of typical American teenagers"? This sounds like of one of those "only in LA " ideas to me.)
I don't really talk much with teenagers on a regular basis, but a 17-year-old who says (re: "Robin Hood") that Ridley Scott is "one of the few directors who could make an exciting movie just with arrows" is already way ahead of most average adult movie-goers, who tend to be indifferent to keeping track of who made what.
The kids do sound a lot like their private school counter-parts of last year, whose predictions included great excitement about "Terminator: Salvation" (which made $125 million domestically) and were less than excited about "Transformers: Revenge of the Fallen" and "Star Trek." But what this really seems to prove is that kids who live close to the entertainment capitol of the world are on a whole other page.
What's interesting about Goldstein's article is the fundamental disconnect between the people who write about movies professionally and the audiences they ostensibly understand. For example: at the end of March, when "How To Train Your Dragon"'s opening weekend disappointed, Steven Zeitchik quickly pumped out a little think piece about how animated movies might be developing a "success-quality gap."
The evidence: the only "well-reviewed" animated movies that do really well are Pixar films, while "critics' favorites" like "Coraline" and "Wallace & Gromit" flounder. The final damning instance: "Monsters Vs Aliens" made more money than "Dragon" with weaker reviews — which, unfortunately, after this weekend will no longer be true. The conclusion? "You can create really good animated films but, as a rule, you'll have more success if your films aren't that great."
The math on this is obviously now not checking out, but this is just one blip. Entertainment writers always make generalizations about the viewing public: sometimes it's that they're easily manipulated byf advertising, sometimes it's that quality "actually matters," and sometimes it's some variant of the critics-vs.-public theme. But the reality always delivers exceptions, and it's just about impossible to tell with perfect certainty what a blockbuster-size crowd wants.
This much we know: formulaic, demographic-conflating movies tend to make much more money than other types, which isn't much of a surprise when most people get their information about movies from advertising and word-of-mouth. But while audiences can easily be led, they can just as easily, with no warning, refuse to show up, something that has little to do with notions of "good" and "bad." People who cover the film biz don't understand "the audience" better than anyone else.
[Photos: "Robin Hood," Universal, 2010; "Monsters Vs Aliens," Dreamworks, 2009; "How To Train Your Dragon," Dreamworks, 2010]