Getting through the long haul.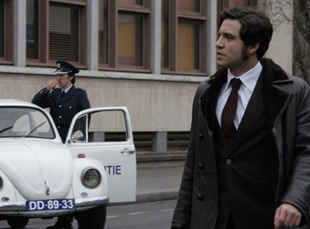 Posted by Vadim Rizov on
The prospect of sitting through all of "Carlos," Olivier Assayas' five-and-a-half hour film about Venezuelan terrorist Carlos the Jackal, is filling the weaker-hearted Cannes troopers with fear and trembling. As The Los Angeles Times' Steven Zeitchik reports (if that's the correct word), there is trepidation over Cannes' longest odyssey since Steven Soderbergh's four-hour, two-part "Che," which "Carlos" will supposedly make "look like a network sitcom." Faint-hearted souls are reportedly "gearing up for the gargantuan screening […] buzzing about it as an event and an experience, with one part apprehension and two parts professional braggadocio." And one person is "preparing" by going to other lengthy movies at the festival. So, you know.
"Carlos," of course, was made for TV, placing it in the tiny sub-genre of things designed as normal TV experiences, then brought to foreign viewers as marathon films. Others include "Berlin Alexanderplatz" (which I saw as two long, long seven and a half hour viewings) and "Heimat," as well as many key Bergman movies ("Scenes From A Marriage," "Fanny and Alexander") — the latter introduced as still-lengthy but cut-down versions. The practice of cutting down foreign films for domestic release has largely been discontinued — though John Woo's last film, the two parter "Red Cliff" was for American audiences — and Zeitchik grumbles that there's no three-hour cut. Essentially, he'd prefer a less fleshed-out version that implies half the product is extraneous.
The importance of duration has been both over and understated by audiences and critics. There are people who will refuse to watch any movie over a certain duration (two and a half hours, say) and make a big deal out of it. Up through the '50s, of course, people were used to sitting through two movies, the newsreel, cartoon, serial and so on; these days, though, people spend most of their marathon viewing sessions in front of the TV. We resent forced duration.
My personal viewing threshold is seven and a half hours, which I know thanks to "Sátántangó," the Bela Tarr movie whose thesis is at least in part that the experience of feeling time pass — of surrendering your day to someone else's vision — can be essential to a film as any visual or sonic elements. I once made the decision to see a rare theatrical screening of "Shoah," which required watching the whole thing in one day: a nine-and-a-half hour marathon punctuated by a one-hour dinner break. At seven-and-a-half hours pretty much precisely, I hit a wall that made the last two hours tougher than they should've been.
Making a long movie is rarely an arrogant act, a decision made to make an audience suffer for your vision. It's a gamble and a request for patience and trust. But whining about length is mostly counterproductive: that's the biggest risk you can take. Better to expect greatness than grumble about the length.
[Photos: "Carlos," IFC, 2010; "Sátántangó," Facets Video, 1994.]