Jake Gyllenhaal, the "smart-throb."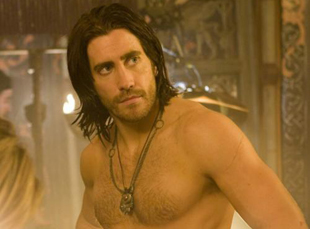 Posted by Vadim Rizov on
In an intriguing and moody profile of Jake Gyllenhaal, The Independent's Lesley O'Toole introduces us to an unlikely new coinage along the lines of "bromance": "smart-throb." This neologism is new to me, but apparently it comes up every now and then: it apparently also applies to David Krumholtz on "Numb3rs" and, long ago, Jonathan Taylor Thomas. August company, to be sure, though O'Toole proposes that the ranks also include the older likes of George Clooney, Robert Downey Jr. and Matt Damon. (Best not to think about what actors didn't make the cut.)
What she means, of course, is that Gyllenhaal, who wasn't initially known for his biceps, has gotten very jacked. O'Toole makes the semi-convincing parallel to Downey Jr. in that he was once sensitive and dark and is now noticeably bigger than when he first got started. But even as Donnie Darko, Gyllenhaal seemed a lot better sculpted than your average teen weirdo; his contemporary Tobey Maguire was no stranger to the weight room, but there's always been a tentative, unnerving quality around him that might disqualify him.
This is by no means a real trend, though it was nice of O'Toole to give us the vocabulary in case it becomes one. It does, at least, suggest that fat husbands with hot wives may be all well and good for network TV, but at the cinematheque, the idea of a wiry action hero is still a definite implausibility; if you're going to head up a franchise, you'll still need the six-pack.
Whether or not this actually succeeds in changing Gyllenhaal's image remains to be seen; public reaction to him as a long-haired, sword-wielding "Prince of Persia" has been muted and mostly confused. But it also suggests we've entered the era of the smart big hero who requires both brains and brawn, a departure from the days when most of the action heroes past had whole movies designed to cover up their thespian inadequacies. And there's a domino effect where otherwise potentially mediocre movies are elevated by casts that are vastly overqualified.
Of course, be careful how far you want to take this logic. Nicolas Cage started embracing it with feverish intensity around 1996, and now he's only sporadically useful.
[Photos: "Prince of Persia: The Sands of Time," Disney, 2010; "Iron Man 2," Paramount, 2010.]