Uwe Boll's "The Final Storm" better (and worse) than the director's standard.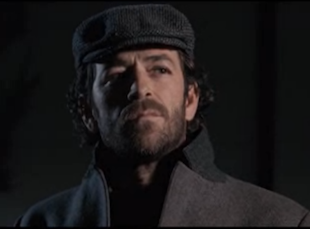 Posted by Matt Singer on
Uwe Boll may not make interesting movies, but he's a pretty interesting guy. For years, he's sustained a career as the Max Bialystock of B-grade video game movies, exploiting a German tax loophole that required movie investors only pay taxes on films that made profits, and gave Boll a legitimate reason to make films like "House of the Dead" and "Alone in the Dark" as bad as they could possibly be. And ho boy did he succeed.
But successfully making unsuccessful movies revealed one of Dr. Boll's strange quirks: though he made schlock, he craved respectability. When his exploitative films got poor reviews, he fought back. Desperate to prove his films were better than their reputation — and by association, that he was better filmmaker than his reputation — Boll angrily confronted people who panned his films and even boxed bloggers who had dared to make fun of him. (He won too.) I'm not entirely sure how kicking the shit out of a nerd proves the quality of a film, but whatever.
Since Germany closed that tax loophole, the quality of Boll's films have improved, but his attitude remains unchanged. Now, instead of challenging his critics in public, he's taken to expressing his rage in his movies. His recent "Rampage" — hailed as "a good Uwe Boll" movie" when it played last fall at Fantastic Fest — is a technically well-made and and utterly hateful cinematic attack on humanity. Boll seems to argue in favor of wholesale slaughter by portraying the subject of his film, a kid who goes on a murderous, vengeful killing spree, in a sympathetic light.
The rationale provided is that society has essentially destroyed the world with its greed and waste. We don't deserve to survive and hey, at the rate we're going, we probably won't survive. So what's wrong with speeding the process along with some assault rifles? Whether Boll is genuinely concerned about the environment or just using it as very convenient excuse and outlet for his revenge fantasies, I leave to you to decide.
"Rampage" comes out on DVD on July 1st, but the prolific Boll has already completed two more films, one of which is already available on DVD and Netflix Watch Instantly. Entitled "The Final Storm," it also mines Boll's newfound eco-panic, and opens with a montage of actual news reports of horrifying events from around the globe: hurricanes, floods, protests, etc.
Clearly, someone watched the teaser trailer for "The Road", and based on the first half of "The Final Storm," I would guess someone was a fan of the rest of "The Road" as well; Boll's film has a very similar story of an average American family forced to deal with the harsh reality of the end of the world in a cold, dank, and woodsy setting following a vague and unexplained cataclysm.
While Boll's films have improved, he's still no John Hillcoat. For such a dark and depressing subject, there sure are a lot of inappropriately timed sex scenes. And it wouldn't be an Uwe Boll movie without a few glaring continuity gaffes; my favorite is the fact that the morning following the film's opening torrential rainstorm — one that characters claim has been going on for a week, mind you — Tom (Steve Bacic) goes to his neighbor's farm, where the ground is completely dry.
Best of all, though, the movie takes an inexplicable turn into "Cape Fear" territory in its second half, as a mysterious stranger (played by Luke Perry) is revealed to be a homicidal killer. Or, rather, Tom suspects he is a homicidal killer, even though Perry's character is extremely well-dressed and polite and offers very little indication that he's worthy of any suspicion.
Despite the fact that the world is ending and Tom really should have his mind on other things, he devotes all of his energy to proving Perry is a bad dude. One might argue this is Boll's attempt to portray the toll that an apocalypse has on the fragile psyches of its survivors, except Perry is — SPOILER ALERT!! — actually a killer, which makes Tom right instead of paranoid. And if you're wondering whether the whole end-of-the-world thing gets any clarification or resolution, it does. After ignoring the apocalypse for the entire second half of "The Final Storm," Boll spends the film's final 40 seconds –yes, 40 seconds, I timed it — settling it with a single line of dialogue and a hilariously bombastic final image.
Such a ludicrously abrupt ending reminded me of slapdash quality I loved about Boll's earlier movies, but mostly this is, like "Rampage," a sad, dour film with unhappy people living out miserable lives at the end of the world. Despite a few snafus, the film is far better shot and acted than Boll's earlier work, but in some ways, he's become a better filmmaker and a worse entertainer all at the same time.
Movies like his epically atrocious "Alone in the Dark" had a real gusto, a WTF energy that, when coupled with their endless continuity gaffes, bad acting, nonsensical plots, and convoluted text crawls, made them incredibly fun to watch. In a world that has embraced movies like "The Room" and "Birdemic," Uwe Boll could have been the Edward D. Wood Jr. of his generation, if only he wanted to be. Clearly, he has much higher ambitions. Watching to see if he ever achieves them will be interesting as well.
[Photos: "The Final Storm," Brightlight Pictures, 2010]