Exclusive Video premiere: Jihae's "Elvis Is Still Alive."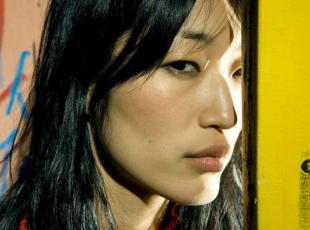 Posted by Brandon Kim on
New York artist and musician Jihae just created this human Tetris/gaping audience video for her song "Elvis Is Still Alive" as commentary on all our starry-eyed idol worship. It's true, there are days the Indie Ear is a gasp away from a cheap celebrity blog… we're all vulnerable. The video is a combination of two other pieces that Jihae has reinterpreted – one by director Marco Brambilla called "Sync" and another by Korean artist, Miri Shin called "Block."
Jihae, a South Korean who lived in Nigeria, Sweden and the UK before the US, is a bit more worldly than the average Earthling. "We buy into all kinds of lies that are sold to us from advertising to Fox news or from the Vatican to Goldman Sachs. While hundreds of thousands of other people's sons and daughters have been at war for a decade and most the world is in turmoil," She said truthfully while commenting on the video. "Many find ourselves in this strange consumerist entertainment bubble where celebrities have become the golden cows of our time that we love to worship and destroy."
Dig it:
Now if you're tapped deep into the arts maybe you recognize the name Marco Brambilla who is an acclaimed video artist. The New Yorker called his work "Absorbing and delicate enough to restore one's faith in the medium." I knew his name from a different life time. He is in fact the former Hollywood director, who gave us the likes of "Demolition Man" and the kidnapping romance "Excess Baggage" It's a small world!
Here too is "My Love," the first single off of Jihae's forthcoming release, Fire Burning Rain which is due out September 7th via Septem Records – Jihae's own label.
Download: "My Love" by Jihae.
Check out Jihae.net.