Exclusive video premiere!: Harper Simon's "Wishes and Stars."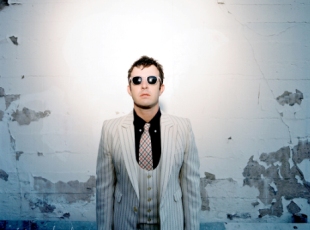 Posted by Brandon Kim on
Sometimes the apple don't fall far from the tree, and thus seems to be with the case with Harper Simon, son of Paul Simon. Quite thankfully. There are hurdles enough in staking a claim as a singer songwriter in your own right without being the son of a living legend. Were I in his place…Well, I would say that I'm just drifting. Here in the pool.
[Harper Simon. Photo by Autumn De Wilde]
And it seems Simon has done his share of drifting in the past, oh yes. But this was no easy vanity record dropped, just because he could. It wasn't all simple as a bee/as a melody in C as he sings in this song, but a long journey to this point for a man now in his late 30's and fresh from a tumultuous past. See and hear for yourself with this viddy for "Wishes and Stars," directed by Joshua Leonard, off Harper Simon's self-titled debut album.
"Wishes and Stars," Director's cut.
Simon co-wrote this winning melancholy ballad with the poet Ben Okri. There are more wishes than stars. That's just a tremendous line and a hard truth more recognized today than it was back when Simon's pops released Graceland and we were all bopping around to "You Can Call Me Al" in our PJ's. All along, there were incidents and accidents, there were hints and allegations. But don't let it get you down.
In the end, "Wishes and Stars" is just coming to terms with this as we all do, and we're all right. Just look at that old guy, the motel owner at the end. See? It's all right. That's John Perry Barlow, who used to write lyrics for the Grateful Dead. Those are all various friends of Simon's you see, actors, artists, writers. The clown that looks like he might lose it any minute is Money Mark best known for his dope keyboard work on Beastie Boys records.
Players on the album include folks like Sean Lennon (who plays celeste on "Wishes and Stars"), Aaron Espinoza (Earlimart), Yuka Honda, and Steve Nieve (Elvis Costello) as well as old schoolers like Charlie McCoy (Bob Dylan's Blonde on Blonde) and even, Paul Simon. But make no mistake this is the the blood and tears of Harper Simon. It's also an homage to the 60's and 70's and the LP. I'm so pleased about that and his desire to craft an album, something those of us in our 30's (and 40's) tend to covet more than most.
"The long playing album is the great artistic medium invented in the second half of the 20th century, [it's] not just ten songs thrown together randomly. It has an arc. It has a structure," Simon says. "It is the attempt to make ten songs that are all as good as each other, and fit together in a seamless whole. Long playing albums like Sgt Peppers, Bridge Over Troubled Water, Pet Sounds, Blonde On Blonde, Sticky Fingers — these albums have helped define our culture."
A culture at risk of being lost, drowned out in a digital din, save for artists like Harper Simon.