Exclusive Interview: Robert Rodriguez and Bob Schneider.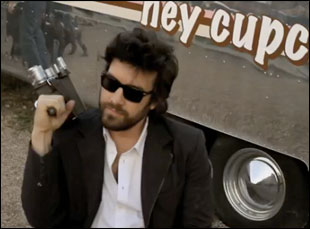 Posted by Brandon Kim on
I just had the pleasure of getting down with closet good-guy Robert Rodriguez, one of the most respectable filmmakers in the known Universe, and Austin legend Bob Schneider for a music video the two put together one weekend in their hometown.
[Bob Schneider rocking Robert Rodriguez's old wind-up 16mm.]
We had a little delay setting up a conference call that resulted in Rodriguez and I shooting the shit for a while during which time I tried my best not to go completely off the rails working in quotes from "Predator."
I don't care who you are back in the world, Rodriguez, you give away our position one more time, I'll bleed you, real quiet. Leave you here. Got that?
It was a good time. I learned that while he listened to tons of Bob Schneider's "Lovely Creatures" album while in Hawaii shooting the new "Predators," Rodriguez is something of a vinyl jazz man, at least as working background music. In his studio he has Coltrane and Mingus piled up on an old Stack-O-Matic record player in the corner while he's editing and scoring and cartooning and staying true to his roots.
Read the interview with these two here and check out Schneider's new "40 Dogs" video featuring Kat Dennings and one of Rodriguez's charming young sons.