Drive-By Truckers "Working This Job," a tale of fast food and foreclosure.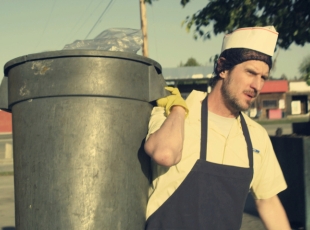 Posted by Brandon Kim on
Drive-By Truckers frontman, Patterson Hood collaborated with filmmaker Scott Teems and the band's pal Ray McKinnon once before for a film called "That Evening Sun" which had a few Truckers/Hood tunes in it. Now, they've shot this recession conscious video together, from The Big To-Do album with Teems directing and McKinnon starring – whom you'll recognize as the crazy ass preacher from "Deadwood" (or more recently the coach in "The Blind Side").
There's an explicit cut I was all ready to place (where someone gets shot to hell and you can see here) but I actually like this clean version better. The cops are more amusing. It speaks to me, and though it's been some 17 years since I flipped a burger (and then only 2 summers) I feel foreclosed on almost every week. McKinnon nails this. I look forward to his next feature, "The Last Ride" billed as the final days of Hank Williams.
Patterson says the songs on this album owe much to the experience the Truckers had the last time they were in the recording studio with Booker T, backing him for Potato Hole (on which Neil Young also contributed). "Maybe the third song we tracked just wasn't going the way he wanted it to go, " Patterson recalled. "We weren't quite understanding what he wanted. We were playing it right, but it wasn't right. All the sudden he just stopped the session. He gathered us around, and he told us a story about a Thanksgiving dinner, and the way it smelt in the house, he'd been on the road a long time, and they were all in – cousins and aunts he hadn't seen in several years. He said, 'It's just a day where nothing happens, but it's all really good.'"
"And we sat down and we played it, and we nailed it. It was like a revelation. We're a lyric-driven band, and our songs generally paint scenes and tell stories based on scenes. He instinctively knew that was how we operated. And I think it taught us a lot about how we operated. Going in and making this record, I could tell a real difference in the way the songs hold up musically. We put a little more care into that side of it than I think we ever did before because of what we learned from him."
Check out Drive-By Truckers on ATO records.