Disc Covering: "Dolan's Cadillac," one to add to the "bad" pile of Stephen King adaptations.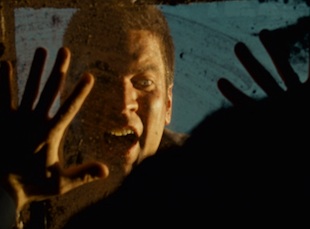 Posted by Matt Singer on
I find the world of direct-to-DVD movies totally fascinating. You walk into a video store, confident in your knowledge of the current cinema landscape, and suddenly you discover a Morgan Freeman movie you've never heard of before in your entire life. It's hard to imagine why a movie starring Freeman, Antonio Banderas and Radha Mitchell by the director of "Deep Impact" can't get a theatrical release. Sure, it could be a real stinker, but c'mon — real stinkers get exhibited on thousands of screens across the country every single day of the year.
(My hypothetical example, by the way, isn't hypothetical: it's "The Code," or at least that's the name it's rented under at my local video store. IMDb lists it as "Thick as Thieves." Let's call that BAD SIGN THAT YOUR MOVIE IS GOING STRAIGHT TO DVD #1: Multiple Titles.)
Still, there's no denying that direct-to-DVD stigma exists, and not without good reason. But as the independent film distributors and boutique studio labels close, theatrical releases are get harder and harder to come by. As our own DVD columnist Michael Atkinson observed, that's led some damn fine movies to premiere on disc. So I'm not approaching this world just looking for bad movies to make fun of (though I'm definitely not above doing that if a movie warrants it). In this column, I'm going to search the direct-to-DVD world for undiscovered gems. And if I find some entertaining schlock along the way, I'm cool with that to. Let's begin.
"Dolan's Cadillac" (2009)
Directed by Jeff Beesley
Tagline: "An eight-cylinder fuel-injected coffin"
Tweetable Plot Synopsis: Mousy schoolteacher seeks revenge on heinously evil human trafficker who killed his wife; discovers joys of construction work.
Salable Elements: Mid-range, somewhat faded movie stars Christian Slater and Wes Bentley in the two lead roles, a plot based on a short story by top tier literary star Stephen King.
Biggest Success: For a movie about retribution, mental breakdowns, and the slave trade, the film has a pretty wicked sense of humor. After his wife's murder by a mobster (Slater) who's worried she'll testify against him in court, sixth grade teacher Robinson (Bentley) plunges into a nasty downward spiral. He hits the pain medication and alcohol so hard that his wife' charred corpse starts appearing to him in visions a la John Landis' "An American Werewolf in London." In a particularly demented scene, she helps him pick out a gun to kill Slater's Dolan with, one three times more powerful than Dirty Harry's Magnum (true to its reputation, a stray bullet from the gun later causes a rock slide). Robinson and Dolan's final confrontation takes place on an abandoned stretch of highway near a sign for Las Vegas bearing the town's "Whatever happens here, stays here," motto. That's already a clever poke at Robinson's crippled emotional state even before we learn exactly how he plans to strike back at Dolan, which elevates the gag to the level of a great "Twilight Zone" stinger.
Biggest Failure: Despite the dark comedy, and a plump Christmas ham of a performance from Slater — who has maybe three lines in the entire film that don't involve despicable racial epithets or screaming at the top of his lungs, or both — the screenplay by Richard Dooling leans way too heavily on faux philosophical (let's call it "fauxlosophical") narration. The movie begins with "Terminator 2"-style images of the open road, while Bentley describes his adversary in grave voiceover: "He looks like anybody you see on the street. But when he grins, birds fall off telephone lines. When he looks at you a certain way, your prostate goes bad, and your urine burns. The grass yellows up and dies where he spits. He's always outside. He came out of time. He has the name of a thousand demons."
Let's for the moment ignore the whole an-altercation-with-this-gangster-made-my-pee-burn thing (I promise, I'll come back to it). The movie sets up Dolan to be the bad guy of all bad guys, and when we meet him he's… Christian Slater? There are very few actors who could live up to that kind of introduction — Al Pacino in "The Devil's Advocate comes close — and, sadly, Christian Slater isn't one of them, especially when he's saddled with a role that requires him to do so much mugging and sweating.
(About the burning urine thing, the movie is strangely preoccupied with peeing. Bentley actually repeats the same line in another voiceover later in the film, and Robinson and Dolan's first face to face meeting takes place — where else! — at adjacent truck stop urinals. No word on who made whose urine burn though.)
Best Moment: Robinson screams at Dolan, the man who blew up in his wife in a car bomb, "It tears me to pieces to think about how you tore my wife to pieces!" Sincere but poorly chosen expression of rage or brilliant deadpan wordplay? I still can't decide, though the fact Slater is, by this point in the film, shirtless and flexing his sixpack as he begs for his life makes me lean towards the latter.
Special Features: A 20-minute promotional featurette about the making of the film, which includes director Jeff Beesley's contradictory claim he made "a Saturday night popcorn movie" that is "at its heart, it very much… an art film." You and half the directors on the festival circuit, Jeff.
Worthy of a Theatrical Release: No, but "Dolan's Cadillac" does make a respectable rental title. It certainly looks good enough for a theatrical release, courtesy of some decent cinematography by Gerald Packer. But its whiplash moves between comedy and drama look a lot better on the small screen, where the line between intentional and unintentional comedy is a lot more fluid, and a lot more forgiving.
For Further Viewing: Watch as a bunch of seventh graders interpret King's "Dolan's Cadillac" with predictably goofy results.
[Photos: "Dolan's Cadillac," Film Bridge International, 2009]