Guillermo del Toro can't wrest the Rings from Gollum-esque creditors.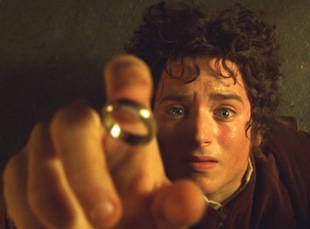 Posted by Matt Singer on
History teaches us to be very skeptical of filmmakers who change their plans because of "scheduling conflicts." Earlier this month, for instance, Sharlto Copley left the upcoming film "I Am Number Four" because of "scheduling conflicts" caused by "The A-Team" press tour.
But according to Film Drunk, that was merely a cover for the real reason: a classic case of the old "creative differences." Turns out "Number Four" director D.J. Caruso refused to allow Copley to wear the prosthetic nose and fake ears he desired to play his alien character. Hence Copley is out and Timothy Olyphant is in.
Still, some scheduling conflicts aren't just publicist code for "the director wouldn't him let him wear cool alien makeup." After working on the project for two years, writer/director Guillermo del Toro announced in a statement over the weekend on the Tolkien fansite TheOneRing.Net that he was leaving the planned two-film adaptation of J. R. R. Tolkien's "The Hobbit" because of delays caused by the ongoing (and on-dragging) sale of MGM, which shares the rights to the precious "Hobbit" property with New Line/Warner Bros.
MGM does own a key, potentially lucrative chunk of "The Hobbit." But they also carry an enormous $3.7 billion dollar debt, a rather big monkey wrench in potential buyers' acquisition plans. Over a period of months, various offers have been extended and rejected by MGM's current owners, Sony Pictures and a variety of private investors, who, according to the New York Times, purchased the company back in 2004 for some $5 billion back when DVD sales made their library skyrocket in value.
After the DVD bubble burst, the offers submitted in 2010 for the company by Time Warner, Lionsgate, and others have been significantly smaller, and last week the Los Angeles Times reported that MGM's debt holders were now poised to take over and restructure the company.
So where does that leave "The Hobbit"? Somewhere akin to development hell (or at least the sideways universe on the last season of "Lost"). Until MGM gets itself in order, it can't give "The Hobbit" a greenlight; until "The Hobbit" gets a greenlight, del Toro is stuck commuting to and living part-time to New Zealand, a difficult task for an in-demand filmmaker who, according to IMDb, has ten more projects already in development.
"In light of ongoing delays in the setting of a start date for filming 'The Hobbit," del Toro told TheOneRing.Net, I am faced with the hardest decision of my life… but the mounting pressures of conflicting schedules have overwhelmed the time slot originally allocated for the project." In comments that mentioned and thanked producers and co-writers Peter Jackson and Philippa Boyens, and New Line/Warner Bros., del Toro bowed out of the project. He did not mention MGM by name once.
This is the second time in as many months that MGM's future has put the kibosh on a popular franchise — in April, EON Productions, creators of the James Bond film franchise, announced they were putting their still-untitled 23rd Bond film on indefinite hold until the MGM's finances were sorted out. At this point, the film still has no official release date.
By the way, Sharlto Copley continues to insist he really did have scheduling conflicts with "I Am Number Four," and that he didn't leave the project because of a disagreement with Caruso. I guess people and their schedules don't see eye to eye (or prosthetic nose to prosthetic nose) more often than I thought.
[Photos: "The Lord of the Rings: The Fellowship of the Ring," New Line, 2001]