"Daybreakers" director duo and "The Dark Crystal" sequel.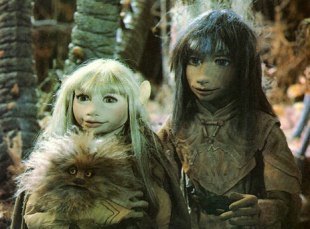 Posted by Brandon Kim on
There has been quite a bit of positive buzz going around about the extremely long awaited sequel to the fantasy puppet epic, "The Dark Crystal." I'm so into that movie, and the good times it provided from 1982, I'm practically a closet Gelfling fetishist.
I have much love for the The Jim Henson Company in general too, but I can't possibly condone the directorial choice they made on this one: Peter and Michael Spierig. Not having seen their first feature, "Undead," (I hear it had a quad barrel shotgun, and I'm sure it's B-movie excellence), I admittedly don't have too much to go on. However, the goregasm that was "Daybreakers," was plenty enough to know that these guys are no Jim Henson and Frank Oz.
I quite enjoyed "Daybreakers," but that's only because I can enjoy terrible, laughably bad films. It was riddled with the worst kind of willy-nilly editing and nonsensical plot development, complete with missing locations as if it didn't matter how anyone got from point A to point B as long as someone's body exploded. If you haven't seen it, you saved yourself from a schizoid embolism.
The sequel titled, "Power of the Dark Crystal" will be in stereoscopic 3D and will use CGI – thankfully, along with live action and traditional puppetry. But the balancing of those elements will be the key and if the stupidly hilarious teenage spaz-out that was the Spierig's last directorial effort is any clue, don't count on there being any restraint.
To be fair, in the Henson Company press release, Michael Spierig said, "We feel a tremendous amount of responsibility in telling this story with the same meticulous care that Jim Henson and Frank Oz gave the 1982 original." And brother Peter added, "This is a chance to take the world of puppetry into the modern age by using modern techniques (like motion capture CGI) and the tried and true methods (like puppetry and animatronics) to create a one hundred percent real world that is unique to 'The Dark Crystal'."
There is no word yet on the score, perhaps Trevor Jones will make a come back? You know you loved his Gelfing tunes.

Trevor Jones, Gelfling pipe music.

Trevor Jones, The Dark Crystal Suite.
I doubt we hear a Trevor Jones score this day and age but there are returning talents. The original fantasy artist Brian Froud returns as the conceptual designer and Craig Pearce ("Moulin Rouge," "Strictly Ballroom,") wrote the final script based on an original by David Odell (who wrote the first film).
More Spierig brothers.