What 3D movies really need are more dance numbers.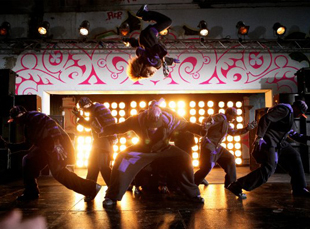 Posted by Vadim Rizov on
Good news, technology boosters and fans of progressive cinema: the UK has finally stopped paying attention to trifling matters like who's in charge of the country and gotten around to producing their first 3D film.
If even the title "Streetdance 3D" sounds suspiciously like the upcoming "Step Up 3-D," well… watching the trailer below won't disabuse you from that notion. They just got the number in on the first try. (Another original American music product co-opted by our villainous ex-colonial masters!)
It's not terribly surprising that the British film industry — which doesn't have nearly as much money to throw around as Hollywood — would take this long to produce a 3D film. 3D is fast becoming the industrial standard for mega-expensive blockbusters — something confirmed by the bizarre fact that a Tim Burton film has now made $1 billion — but the UK isn't in the business of producing such films.
Putting aside '70s porno novelties like "Disco Dolls in Hot Skin", there were basically three main 3D waves, the latest of those three being the one we're currently in the middle of. In the '50s, like now, 3D films were attempted both by the respectable, like Hitchcock's "Dial M For Murder," and the not-so-much, like "Bwana Devil" with Robert Stack:
Eventually it stalled out. In the '80s, by contrast, it was always and forever a gimmick, which is why it didn't prosper; a gimmick is a novelty until it's not. The stakes were lower, the budgets and revenues not so extreme.
An effort like "Streetdance 3D" owes more to a '50s 3D musical like "Kiss Me Kate" than anything — it acknowledges that 3D is excellent for stuff that's kinetic and distracting otherwise, no matter what James Cameron has to say about it.
So far, the best 3D efforts have been the ones that acknowledge that you don't really need all that space and depth unless you are a) in balletic motion of some kind ("Avatar") b) showcasing the artificial depth and details of a world conceived with 3D in mind ("Coraline" and "Avatar" again, the two best of the bunch thus far).
Until someone makes history with a stellar 3D narrative in which the visuals are inextricable from the story, each 3D movie will have to find its own visual rationale. Something like the UK's "first 3D movie" is just another blip on the radar, though our gimmicky dance/3D movies don't generally include thespians the caliber of Charlotte Rampling, one of "Streetdance 3D"'s stars. Paging Julia Stiles.
[Photos: "Streetdance 3D," Vertigo Films, 2010]