Dana Adam Shapiro Flirts with "Monogamy"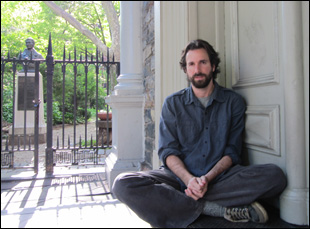 Posted by Stephen Saito on
Dana Adam Shapiro is a bit of a slut — artistically speaking, that is. An Oscar-nominated documentarian for "Murderball" and an acclaimed novelist ("The Every Boy"), in addition to forays into animation, music and still photography following a stint as an editor at Spin magazine, Shapiro had already achieved plenty before taking home the prize for Best New York Film at this year's Tribeca Film Festival for his narrative debut. "Monogamy" centers on Theo (Chris Messina), a soon-to-be married photographer with a side career as a "photostalker" for hire. He's employed by strangers to snap them when they are unaware of the camera, leading to an arousing encounter with one of his clients (Meital Dohan) in a public park, a mystery surrounding who she is and whether he could commit to a lifetime with his fiancée (Rashida Jones).
With the kicky, voyeuristic tension of DePalma's "Blow Out" and the artistic thrills of Antonioni's "Blow-Up," Shapiro's film is as titillating cerebrally as it is otherwise, giving Messina's photographer's descent into a hell of uncertainty the suspense of any classic cinematic potboiler. Always the multitasker, Shapiro was working on a "Studs Terkel-style" book about divorce amongst the under-40 crowd when he and "Monogamy" co-writer Evan M. Wiener decided to write something on a smaller scale that they could make independently after coming across an article in the New York Post about "photostalking." Eleven months later, they were premiering at Tribeca and Shapiro sat down to talk to me about the perils of shooting masturbation scenes in public, why reality can be pretty instead of gritty, and why a lack of sexual tension between his leads was a good thing.
A lot of people have been focusing on your transition from documentary to narrative, but this also incorporates a lot of the other mediums you've worked in like still photography and music — was that by necessity or was did that emerge organically?
It grew organically out of it, but maybe I was drawn to it because of that. All the things that I love very much, I got to put in here. It wasn't like, let's find a story where I could put a song in, or let's find a story about a photographer. A lot of it was, let's write a movie that we can make.
I had a couple movies in the studio system that just take a long, long time and a lot of money and Evan, my writing partner, also had a couple that were stopping and starting, and from a career level, it was born from a certain frustration with how slow the process is and how much money it takes. So we were going to make this movie if we had to make it for $40 grand and thankfully, we didn't, but that was the spirit behind writing it.
In terms of shooting the exteriors, which seem very catch-as-catch-can, was this a situation where life imitated art since you have a photographer that's often in hiding to capture shots?
Our financial limitations actually enhanced the story, meaning this is a guy who takes guerilla-style photographs and he's shooting people that are in real settings and real settings on a gigantic Hollywood film studio are very difficult to orchestrate. If you want to shoot a girl masturbating on a park bench in a Hollywood movie, you have to clear out Delancey Park. It's just a very difficult thing to orchestrate. For us, we just put Meital, our actress, in the middle of the park [for a key scene in the film] and just shot her guerrilla-style and then anyone who was in the shot, we ran up to afterward and we got their releases.
It was very much like shooting a documentary. That might be a limitation on certain films, but for us, we were going for that type of authenticity, that type of New York vibe and the people that you see — like there's a great couple kissing, there's like a man in a Spider-Man suit doing some karate, those are the type of extras that for me, I love that stuff. The limitations actually served the form.
During that particular scene, were you getting dirty looks that may have interrupted the shot? Did anybody notice what you were doing?
That's the downside of shooting in real locations without roping them off is that when they see the camera, they tend to look and wave. On that day, we were definitely nervous. We thought maybe she was going to get arrested for indecent exposure or something, but she was just such a trouper. And that was the first day. It was very trial by fire.
On the last day of filming, your actors were forced to change in the street after being kicked out of a location. Was there ever any down time on this shoot?
We shot this movie in 24 days and… no, we never had a down day. And the actors, there was never an "I'll be in my trailer" moment. Everybody — Chris, Rashida and Meital and Ivan [Martin] — was just so willing to work like this. We said from the beginning, we're going to make a documentary about these people. We shot 220 hours for "Murderball" to make an 86-minute film. That ratio, of course, is just massive and doesn't happen on feature films. But because we set up this idea, we shot a ton of footage very, very loosely with just a lot of freedom and there's an exhaustion factor that I think actually sometimes helps the acting.