"Conan" without Arnold, and the best Fantasy score ever.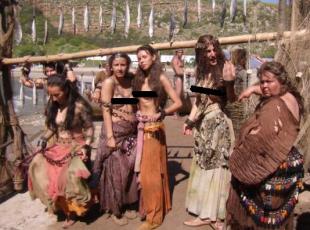 Posted by Brandon Kim on
Images leaked out earlier this week from the set of the new "Conan" film do not do much to ease fears that this is all a big mistake…. unless you measure in exposed boobs (you well might, I don't know). Granted it's still early and Arnold Schwarzenegger replacement, Jason Momoa does look better then he did in "Stargate Atlantis." While he's perfect for the role of Khal Drogo in HBO's upcoming "Game of Thrones" it's awfully hard to imagine anyone other than Arnie playing Conan.
[Barbarian chicks exposed on the "Conan" set in Bulgaria.]
The joy of the original Conan movies, aside from what was intense violence for the time, had much to do with the huge star with the funny accent. Momoa has neither of those qualities. Perhaps Ron Perlman, who will play his father, can make up for some of that. Perlman also seems to be the only cast member who even remotely measures up to the likes of James Earl Jones and Max von Sydow, who both played memorable roles in John Milius' "Conan the Barbarian."
Maybe more memorable then even those titans though, was the score by the incomparable Basil Poledouris. Poledouris was composer for such 80's gems as "The Blue Lagoon," "Flesh+Blood," "RoboCop" and the Republican rallying cry (and favorite of mine), "Red Dawn." His score for "Conan the Barbarian" is Sheer genius from start to finish. As far action fantasy picture scores go, this one from 1982 is the king. And afterward, everyone copied the shit out of it.
We can only hope for compositions of this girth in the coming revisionist cut, that like the original follows "Conan the Cimmerian and his adventures across the continent of Hyboria on a quest to avenge the murder of his father and the slaughter of his village."
My favorite selection from the original score is the track called "The Orgy."

Basil Poledouris – The Orgy, from the "Conan the Barbarian" Score.
Watch this trailer and hear ye Basil Poledouris' epic main theme for the film. It's all Crush your enemies, see them driven before you, and hear the lamentations of their women.
Picture from Quiet Earth, see more including shots of Jason Momoa there.