"Commando" remake will be nothing without James Horner's steel pan score.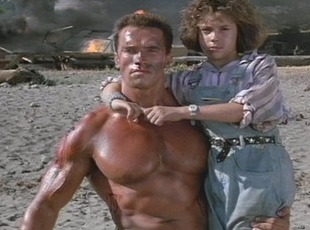 Posted by Brandon Kim on
There's so many Arnold Schwarzenegger movie remakes and old franchise inspired installments coming out, I'm convinced we're entering a new phase of full on 80's Ronnie Raygun longing. Those Republican talking points get to you after a while. Clearly, studio execs see the merit in keeping the good times alive.
There's the continuing "I'll be back" flicks, none of which do it as well as Arnold/James Cameron did, certainly not douchey McG. We've got a "Conan the Barbarian" in the works, which is extremely ill advised, although it does have Ron Perlman going for it.

Talking to Robert Rodriguez the other day got me fired up about "Predators," and it's the only one of the bunch that doesn't have a dire need for Arnold's delivery. The original, which Rodriguez is mining for inspiration, was all about that tough crew to root for and the horror of that "ugly motherfucker." Arnold was key, but a revisit doesn't hinge on him.
That's more than I can say for this remake of "Commando," not staring Arnold Schwarzenegger, but someone "less brawny" directed by "Training Day" writer, David Ayer [Deadline]. Doesn't matter how good of a writer (or director) you are, "Commando" was all about Arnie, his cigar-chomping-one-man-army John Matrix, and his atrociously hilarious one liners (Vernon Well's Bennet had some good ones too).
And let's not forget James Horner in his Caribbean calypso infused phase, deep in the 1980's. The steel drum and lazy saxophone shit he was doing in "Commando" (and "48 Hours," and "Another 48 Hrs.") was so slick, so that moment in film scoring.

"Commando Theme" – James Horner. Jump to :30.
Put together, "Commando" can't be outdone, it's not even a remotely fair fight. We've already seen Matrix impale that Freddie Mercury looking guy on a steam pipe, Let off some steam, Bennett. Title the movie something else. How about "Raw Deal?" Oh wait…