Are children's movies made by people who hate kids?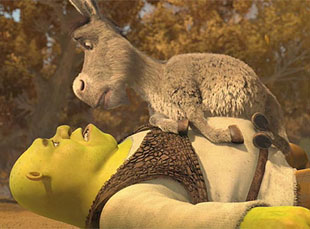 Posted by Vadim Rizov on
The box-office story of the weekend is the relative failure of "Shrek Forever After"; it made $71.3 million, sure, but ticket sales revenue dropped 41% from the last film even as 3D ticket prices jumped to $20 in some areas. One too many trips to the well? Too pricey? Did people finally notice the movies aren't very good?
Whatever the reason, one viewer who wasn't pleased was avant-garde specialist (and personal favorite) Michael Sicinski, who walked out at the 14-minute mark absolutely fuming. His main beef had nothing to do with jokes, but with the attitude: "How, pray tell, do you begin an animated movie that's ostensibly for children with a loud, angry depiction of a father's desire to escape the routinized suburban dragdown of parenthood?"
The makers of "Shrek el Quatro: Please Let It End" are basically inviting the young'uns in, to tell them straight-up, "you kill our souls a little bit every day (but don't worry, in 90 minutes we'll forgive you)." This "two-layered" bullshit — numbnuts lost-youth bellyaching for the grown-ups, fart jokes for the kids — is based on the faulty, insulting premise that kids don't get it.
This seems like a problem that goes way beyond the "Shrek" franchise, of which we are now apparently free. Making a movie for kids is always a difficult proposition — ideally the kids should be entertained without adults suffering too much.
There has to be a protagonist kids can relate to, and most of the time that has to be either a cartoon creature, an animal or an actual child (pubescent or pre-); it's possible to make a movie without any kids at all, but at that point you're basically in talking animal hell:
Making a children's movie that actually works is a difficult balancing act — it's not surprising that most people give up and just slap together kicks to the crotch and cute lil things, with some pop-culture references for adults. But that doesn't mean that kids have to be treated as obstacles to be conquered or pesky annoyances, which is what ends up happening all the time.
Take "The Spy Next Door" (Jackie Chan must win over the kids who irrationally despise him, otherwise he'll never get to marry their mom), "Tooth Fairy" (ditto, only with one kid to win over), "Aliens In The Attic" (kids noisily save the world while their parents are just trying to have a beer and relax), and so on. These can all probably be blamed on "Home Alone," in which little Kevin McAllister annoys his parents so much he has to be abandoned so he can learn to chill out and not be such a jerk. Nowadays, the myth of adult-child parity is frequently traded in for outright mutual animosity.
There's a difference between contempt for kids — that is, making sloppy movies because they won't know any better (true enough for, say, audiences under eight years old) — and outright loathing. How else to explain that popular, tiresome cliché of the dad who has to learn that business meetings aren't as important as a soccer game/ballet recital?
In last year's "Imagine That," Eddie Murphy actually walks out of an important meeting — in a recession economy! — because he's learned his lesson. It's hard not to want to strangle your kid after that movie, which doesn't even make sense. (You have to wonder if all those smart-talking precocious kids who outwit adults are meant to make you dislike children.) There's something kind of disturbing about barely veiled contempt for your target audience — that's not the way to make the kids behave.
The "Shrek Forever After" trailer is below — "Sometimes I wish I had just one day to feel like a real ogre again."
[Photos: "Shrek Forever After," Paramount, 2010; "Aliens In The Attic," 20th Century Fox, 2009]