CGI can be just as good as practical effects.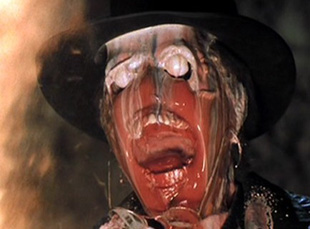 Posted by Vadim Rizov on
In the middle of a hymn of praise to "Raiders of the Lost Ark" in the New York Times, director James Mangold ("Walk The Line," "3:10 To Yuma") feels it necessary to remind us of "the breathtaking visual effects made by hand, not on a hard drive." This is certainly true to an extent: the panoply of inventive-by-necessity effects included gelatin heads, shooting the ending spirits underwater and filming a miniature canyon on fire upside-down.
Still, it'd take a lot of chutzpah to claim that all that inventiveness made the final product more accomplished. "Raiders of the Lost Ark" is as slick as pre-CGI filmmaking gets, and that aura of professionalism doesn't compromise it one bit. It also had the resources of the George Lucas factory behind it and, you know, actual money. A triumph of artisanal effects in the grand tradition of Ray Harryhausen it isn't. And that's a tradition whose de facto elevation over modern CGI needs to be re-examined.
A typical take on the evolution of special effects includes at least some of the following information: that for decades, the only "personal" form of effects were manifested in the stop-motion creations of animators like Willis O'Brien (who gave us the original King Kong) and Harryhausen, with more anonymous, yeomen work done by the men who refined tricks like matte painting.
Production design, too, could be a division of the special effects department. When every resource we now take for granted (like, say, color) was in its infancy, a man like William Cameron Menzies — technical genius, really bad director — could practically have the keys to the kingdom handed to him.
What CGI accomplished, for better or worse, was removing effects from the realm of the all-knowing wizards and slowly professionalizing the field into one requiring increasing amounts of manpower and raw resources. It's no coincidence that there are no grand names of CGI that have percolated down into the fanboy consciousness as auteurs of their realm.
But this doesn't mean you need to sneer at CGI in and of itself. If you wish to see those imperfections so lovingly cited by stop-motion fans as a sign of "personality," just wait ten years and revisit a movie whose CG effects were once cutting-edge, like "Jumanji," below.
More to the point, CGI's a tool like any other, and it can be as quirky as need be (take "Mars Attacks!" or "Speed Racer"), and its professionalization gives a determined director the keys rather than placing him at the whims of one master of the practical effects realm who knows all the answers. Just like everything else, it's inherently neither good nor evil.
[Photos: "Raiders of the Lost Ark," Paramount, 1981; "King Kong," Turner Home Entertainment, 1933]