Cannes Review: "You Will Meet a Tall Dark Stranger."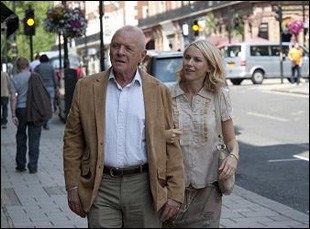 Posted by Anthony Kaufman on
Reviewed at the 2010 Cannes Film Festival.
Woody Allen has preempted criticism of his latest breezy exercise in romantic neurosis by opening and closing his film by evoking Shakespeare's famous line: "It is a tale full of sound and fury, signifying nothing." While that claim may be facetious — Allen returns here to familiar territory that is potentially meaty, concerning fate, sex, love, death and consequences — "You Will Meet a Tall Dark Stranger" is a light, forgettable entertainment, signifying more of the same old stuff from the 74-year-old auteur.
Set in London, the story revolves around four interconnected characters: Helena (Gemma Jones), a matriarch who takes her advice from a fortune teller; her husband Alfie (Anthony Hopkins), who has left Helena to recapture his youth; their daughter Sally (Naomi Watts), who wants a baby and her own career; and Sally's husband Roy (Josh Brolin), a struggling novelist.
The film opens on Helena's first visit to her neighborhood clairvoyant: for glimpses into the future, confidence-building in the wake of her husband's abandonment, and a glass of "drinky" (that is, scotch). Helena's faith in her friend, the aptly named Cristal, forms one of the comic through-lines of the film.
While never as magical or mysterious as Allen's previous flirtations with the occult, as in Mia Farrow's visits to Chinatown in "Alice" or Scarlett Johansson's encounter with a magician in "Scoop," the soothsaying nevertheless provides for some moderately successful humor, and shows off the acting talents of Jones, a British veteran most known for playing the mother in "Bridget Jones's Diary." The actress plays Helena without condescension. Her undying commitment to her fortune-telling transforms the character from being a joke to the movie's best asset — as well as the script's most prevalent theme: "Illusions," notes a third-person narrator, "work better than medicine."
The other characters are familiar Allen archetypes. Brolin's writer falls for a beautiful British-Indian woman (Freida Pinto) some ten years his junior who he first spies playing the guitar — in a red slip, no less — through an apartment window in a neighboring building.
Meanwhile, Alfie becomes smitten by the hard body of a young prostitute (Lucy Punch, delivering some campy humor) and marries her. These sorts of borderline chauvinist plotlines have gotten tired in Allen films by now. At least Antonio Banderas shows up as the sexual object of Watts's Sally; though unlike the men in Allen's latest, she never gets to bed him.
In one plot strand, Allen recycles some themes from "Crimes and Misdemeanors" (not to mention "Morvern Callar") with Brolin's character committing an act of crass immorality, though in a further twist, he may actually get caught. It's mildly clever, and the movie suffers less from the stifling nature of some of Allen's late-career offerings, but "You Will Meet a Tall Dark Stranger" never amounts to anything more than a slight diversion loaded with well-worn Allen tropes.
"You Will Meet a Tall Dark Stranger" will be released by Sony Pictures Classics later this fall.
[Photos: "You Will Meet a Tall Dark Stranger," Sony Pictures Classics, 2010]