The Cannes 2010 award winners.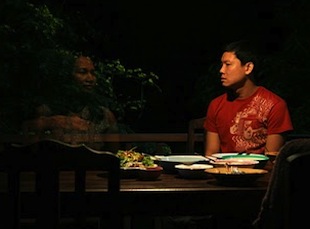 Posted by Matt Singer on
After what was deemed by most critics to be an off-year (indieWIRE's Todd McCarthy declared none of the films in competition worthy of a grade "higher than a B"), Cannes announced its 2010 award winners. The biggest — and by most accounts, most pleasant — surprise belonged to the big enchilada, the Palme d'Or, which was awarded by the Tim Burton-led jury to Apichatpong "Joe" Weerasethakul's "Uncle Boonmee Who Can Recall His Past Lives." "Hands down the most deserving Palme d'Or since I've been attending Cannes," raved Mike D'Angelo in The A.V. Club.
Twitter was, well, atwitter over Joe's win, thanks to critics who've been fans of his work throughout the last decade/ (Three of his four films placed on indieWIRE's poll of the best films of the 2000s, with his last film "Syndromes and a Century" just missing the top ten by two points). Their reportage wasn't exactly objective — it was a bit like watching election night on a channel where the anchors pause between returns for a round of chest bumps — but I guess that's what happens when critics cover a film competition.
Observing Cannes from afar is tough because those of us stuck Stateside during the festival know it will be months — or, gulp, even years — before we'll have a chance to see movies like "Uncle Boonmee." Here's the full list of 2010 Cannes award winners, along with links to where you can find the winners' previous work while you wait for their new films make their way here.
Palme d'Or: "Uncle Boonmee Who Can Recall His Past Lives," directed by Apichatpong Weerasethakul (Thailand)
Weerasethakul's last three features — 2002's "Blissfully Yours," 2004's "Tropical Malady," and 2006's "Syndromes and a Century," — are available on Amazon. All three, plus Joe's debut, 2001's "Mysterious Object at Noon," are also available on disc from Netflix.
Grand Prize (2nd place): "Of Gods and Men," directed by Xavier Beauvois (France)
Beauvois' last directorial effort, 2005's "The Young Lieutenant," is available for purchase on Amazon, or on disc and streaming from Netflix.
Jury Prize (3rd place): "A Screaming Man," directed by Mahamat-Saleh Haroun (Chad)
Haroun has made quite a few movies, but most are unavailable in the United States. His 2006 film "Daratt," winner of a Special Jury Prize at the 2006 Venice Film Festival, is available on disc from Netflix and from Amazon, though if you want to buy it there, you'll have to get it on a double feature where it's packaged with Mohamed Chouikh's "The Desert Ark." Amazon also has his 2002 film "Abouna".
Best Director: Mathieu Amalric for "On Tour" (France)
"On Tour" is Almaric's directorial debut, but he is already one of France's most accomplished actors. He's best known here as the villain in the last Bond film, "Quantum of Solace," but to get a real taste of his talents, start with his terrific performance in 2005's "Kings and Queen" from director Arnaud Desplechin; it's available instantly from Netflix. For the full complement of Amalric's available work, you can try Amazon.
Prize of Un Certain Regard: "Hahaha," directed by Hong Sang-soo (Korea)
Not a lot of options available here; Netflix has three of his films available for rent — 1998's "The Power of Kangwon Province," 2004's "Woman is the Future of Man," and 2006's "Woman on the Beach" — with "Woman is the Future of Man" also available for instant streaming. Amazon has two other Hong films for sale: 2002's "Turning Gate" and 2000's "Virgin Stripped Bare by Her Bachelors."
The Rest of The Winners
COMPETITION
Best Actor: Javier Bardem, "Biutiful" (Mexico) and Elio Germano, "La Nostra Vita" (Italy)
Best Actress: Juliette Binoche, "Certified Copy" (Iran)
Best Screenplay: Lee Chang-Dong, "Poetry" (Korea)
Camera d'Or (Best Debut Feature): "Ano Bisiesto" directed by Michael Rowe (Mexico)
Best short film: "Chienne d'Histoire," directed by Serge Avedikian (France)
UN CERTAIN REGARD
Jury Prize: "Octubre," directed by Daniel Vega and Diego Vega (Peru)

Special Prize: Three actresses: Adela Sanzhez, Eva Bianco, and Victoria Rapos, in "Los Labios," directed by Ivan Fund and Santiago Losa (Argentina)
See all of our coverage of this year's festival.
[Photo: "Uncle Boonmee Who Can Recall His Past Lives," The Match Factory, 2010; "Of Gods and Men," Sony Pictures Classics, 2010; "Biutiful," Focus Features, 2010]