Move over Canada, New York Street is back.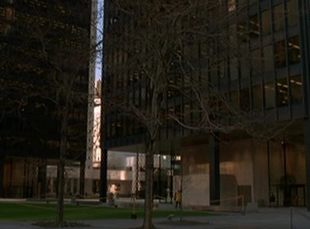 Posted by Vadim Rizov on
It's not that Canada isn't a real place. It's just that when it pops up on-screen, it frequently isn't "Canada": it's a stand in for some generic American big city, being filmed in for tax purposes. Toronto is where Harold and Kumar began their trek to White Castle and Kate Hudson and Matthew McConaughey played out their subtle flirtations in "How To Lose A Guy in 10 Days."
And, of course, Patrick Bateman may have lived and worked in Bret Easton Ellis' New York, but he was actually working in Toronto's TD Center, which actually does look New York-y (the architect built a near-identical building for Seagram's in New York). In Montreal, there was "Gothika" and "Punisher: War Zone" (standing in for Baltimore more or less plausibly).
Though Hollywood productions are always willing to go and shoot wherever the best tax breaks and incentives are, right now Canada is hot once more; as Etan Vlessing notes in the Hollywood Reporter, the weak Canadian dollar's the big draw.
I suspect that many Americans who travel to Toronto find themselves experiencing a weird sense of deja vu from constant exposure to this most exploitable of movie metropolises. And let's not forget Vancouver — host to the first four "Scary Movie"s, both "Cats and Dogs," and this summer's "The A-Team."
There's a nice running joke in the pleasantly undistinguished comedy "Everything's Gone Green" (notable solely as Douglas Coupland's screenwriting debut), in which our slacker hero is repeatedly confounded by the sight of palm trees being moved around the city for American productions. Canadians must be perpetually disoriented by seeing their big cities used as stand-ins for a vague "America."
But, of course, you can also go the good old backlot route. Universal is in the process of unveiling their new "New York Street," a replacement for the backlot that burned down in 2008. "New York Street" is shorthand for a sprawling complex that also has "London," the 1930s NYC, the present etc.
None of it would be particularly convincing to anyone who lives in the area, but it's there, proudly continuing a tradition of a static, unchanging city that's getting more fragmented and weird by the day. (To my eye, it still looks suspiciously like "Back to the Future," which was shot on the old lot.)
It's worth watching the video below just for the moment where "National Treasure" director Jon Turteltaub delivers this verdict on the quickly rebuilt lot: "My first impression was I couldn't believe it had gotten that awesome that quickly. I added a bathroom to my house and it took four years." The main question here: what, precisely, is in Turteltaub's bathroom? Now that's a real tourist attraction:
[Photos: "American Psycho," Lions Gate, 2000; "Back To The Future," Universal, 1985]