James Cameron says "Stay in school."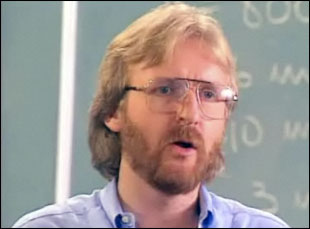 Posted by Vadim Rizov on
Here's a weird blast from the past: a video of James Cameron visiting the late Jaime Escalante's classroom in 1989, after production on "The Abyss" had wrapped. Escalante — the subject of the prototypical inspirational-teacher movie "Stand And Deliver" — had a PBS show called "Futures," and Cameron showed up to talk about moving immense amounts of water, cubic measurements and how the industry he works in is all about science and technology. Yes, kids, do your physics homework, and someday you too can make "Terminator 2." What's interesting is how normal Cameron seems before he became king of the world and gained permission to grow his hair as terrifyingly long as he felt like:
Seeing "The Abyss" as a kid, the same summer I first saw "Lawrence of Arabia," I was blown away — I didn't know movies could be so big. That spirit of excess is part of what makes "The Abyss" great. In the video, Cameron notes that everything in the movie (besides the aliens, we presume) is scientifically accurate, but that's only half the story.
Technically that is how an underwater oil rig would would work, but it's also true that an underwater oil rig would be too overwhelmingly expensive to be practical, which could be a metaphor for Cameron's entire career — as well as the production of the film itself, which was far more contentious and difficult than Cameron lets on. (Watch the making-of on the DVD if you get a chance; it's not quite "Burden of Dreams," but it's unusually candid.)
All that ocean, though, works: "The Abyss" doesn't look like any other movie set underwater, and Cameron's much-noted action skills are flexed nicely. It's an oddly influential movie — it's hard to imagine the end of "The Fifth Element," where Milla Jovavich wavers about saving the world after watching a war montage very similar to the one the aliens show in "The Abyss," without it.
The contentious female protagonist whose convictions are both respected and bad for relationships, the apocalyptic scenario, the obsession with fictional verisimilitude — these are all signature Cameron elements. And of course, there's the fascination with the team-coordination logistics of this fantasy workplace — between "The Abyss," "Aliens" and "Avatar," rarely has one man marshaled so many expensive resources to talk about being a good manager.
[Photos: James Cameron on "Futures," 1989; "The Abyss," 20th Century Fox, 1989]