Brian Koppelman and David Levien Together Again For "Solitary Man"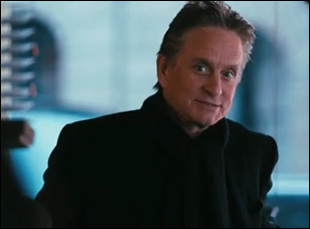 Posted by Stephen Saito on
After penning the scripts for "Ocean's 13" and "Rounders," Brian Koppelman and David Levien have turned their attention to the worst con of all – self-deception. In "Solitary Man," the duo's second directorial effort following 2001's "Knockaround Guys," Michael Douglas stars as Ben Kalmen, a used car baron who has seen his charms and fortune stall out like a Chevy Vega when a bad business deal and a divorce (from Susan Sarandon) leave him adrift in his 60s, with his opportunities for redemption limited to taking the teenage daughter of his girlfriend (Mary-Louise Parker) for a weekend college visit and repairing his relationship with his own daughter (Jenna Fischer) and her son. Likened to a "white-collar 'Wrestler'" by Levien, Douglas trades heavily on his well-established iconography to play the irrepressible ladies' man who finds that time is a crueler mistress than his several women on the side.
While Douglas is in rare form as the deeply disagreeable Kalmen, it's Koppelman and Levien's film as a whole that's something of an endangered species these days – the finely tuned dramedy made for adults. As such, I didn't ask them about "Rounders 2" or working with Brian DePalma on an "Untouchables" prequel, but instead about the difficulty of making an indie film now, as well as their fascination with macho men and New York.
How did this film come about?
Brian Koppelman: It was a screenplay I started writing three or four years before we started shooting, but it took me that whole time because normally we write as a team. I had seen a guy tell his grown daughter not to call him dad in public because it made it hard for him to pick up girls and just wrote that scene right away and wrote about 15 more pages. When Dave read it, he immediately said," look, you have the voice of this thing and the tone. Why don't you write it?" It took me years to finish, but once I did, Dave read it and just said "alright, well, this is done. Let's go make it." And then we decided to go and try to put it together to direct.
Was it different for each of you to work on something where only Brian had written the script?
BK: One of the big differences is that normally if I'm stuck, Dave is right there. It's a rare day that both of us don't have some idea of how to move a screenplay forward, but on this, because I was writing it myself, there definitely were days when I would go down a blind alley and not really have the way back on my own. Another difference was I think I was more critical of my own contributions when I was writing on my own because normally I can put something out there and Dave will make it better.
David Levien: I think since this thing was written totally on spec [without a contract], it was, in certain ways, an unconventional movie, as far as Hollywood would view a piece of material and Brian took a very organic approach to telling the story as opposed to getting hired by a studio to write a script and just delivering a draft in three months. There's something about that kind of a timetable that is difficult to make an entire story really organic and by taking the time, I think it really paid dividends.
When I got the script, I hadn't envisioned directing something that I hadn't written because before this — we had always written stuff we directed [together] — but it was really a cool experience because I felt very objective about the material. Usually, there's like a sense of attachment to all the effort you put in as a writer, so on this one, I didn't have to contend with that. I could look at the material very clear-eyed and just think about how to make it the best movie that we could.
And David just alluded to it – is making movies for adults a tough business to be in these days?
BK: I guess it is a difficult business and I think that is exactly what David was alluding to, which is that no part of this seemed or felt or was business. This was a story that we just wanted to tell. I saw that thing happen in a park in New York, but David and I had long been thinking about and talking about characters like Ben Kalmen, guys who hold themselves out as kings of the world and what happens to men who have relied upon some kind of combination of charisma, charm, ambition, feral intelligence to achieve a position of success and what happens to them when their virility starts to diminish just a little bit and how do they make peace with that?
As far as the time in the business, it doesn't feel like that many years ago when a movie like "Michael Clayton," which granted had a few more like thriller-ish elements to it, but was really about a guy reckoning with an inner emptiness and questions of his own integrity and stuff like that, you know a movie like that came out to critical and commercial success, so our hope and belief is that these things are sort of cyclical and there will always be a place for dramas for adults in the marketplace.