Black Prairie perform "Red Rocking Chair."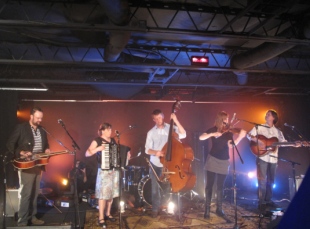 Posted by Brandon Kim on
This performance of Black Prairie's "Red Rocking Chair" shot at SXSW is from their debut album Feast of the Hunters' Moon. It's swaying on the porch sipping rye music, watching a storm roll in over the prairie. I'll bet it reminds you more of "Deadwood" than The Decemberists, even though three of five of those Portland musicians make up Black Prairie.
[Black Prairie at SXSW. Photo by Chris Reddish.]
Guitarist Chris Funk and bassist Nate Query decided to play more instrumental string music with a dobro and double bass, brought along fellow Decemberist Jenny Conlee to play accordion, then Annalisa Tornfelt and Jon Neufeld joined in on violin and guitar. The vocals are by Tornfelt who the group thought had such a great voice, they had to use it.
But Black Prairie remain an instrumentalist group at the core, bridging "the music of Clarence White and Ennio Morricone" as Funk describes it. Check out more of them on blackprairie.com.