"Babies," the choice of the YouTube era.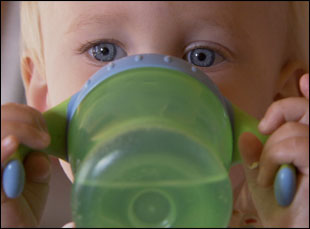 Posted by Vadim Rizov on
The new doc "Babies" has to be the most shameless film of our new decade — the very title tells you everything you need to know. Reviews are coming in, with Roger Ebert and Dan Kois confirming that "Babies" is, in fact, just babies.
It's an unreviewable movie, insofar as its selling point is something that tells you more about the critic (and their attitude towards small, squalling infants) than about the actual film. The most overwhelmed review is Kois' hilarious "first draft" review at the Village Voice, consisting of nothing more than the word "babies" repeated over and over, sometimes in italics and/or parantheses. Malkovich Malkovich indeed, to cop a joke that's making the internet rounds.
Not being a baby guy myself, the review I like most is Sean Burns' deliberately hostile take at the Philadelphia Weekly. Opening line: "We get it. They're cute." Then he mocks the conceit of showing four babies from all over the world: "I guess the multiple locations are meant to hint at some sort of universal truth, like perhaps that cultural and geographic differences don't matter all that much when you're a barely sentient newborn." True, and simultaneously no more or less valid than Ebert saying he liked the movie because it reminded him that, as a kid watching ants on the sidewalk, "I've never been so entertained in my life."
To me, "Babies" is a sinister plot. Watching the "Babies" trailer in a theater twice provoked the exact same reflexive response from the crowd: cooing and "aw" sounds. If this stuff works for you, it works. I'll eat my non-existent hat if this isn't one of the most profitable documentaries of the year.
Aside from the fact that "Babies" will go down in history as a William Castle-level hoax on a credulous public that thinks they're getting a movie when they're just having their money taken out of their wallet, "Babies" is the apex of the YouTube aesthetic and era writ large. The internet, after all, is seemingly here not to relay news out of Iran or provide political forums with ridiculously contentious message boards: it's here to cute overload you in espresso-size shots of kittehs and babies.
A movie like "Babies" would be absolutely unthinkable before everyone could upload their clips of cute small things doing cute small things. And if it works, watch out: "Puppy Cam: The Movie" is coming for your soul.
[Photo: "Babies," Focus, 2010]