Seven memorable movie autopsies.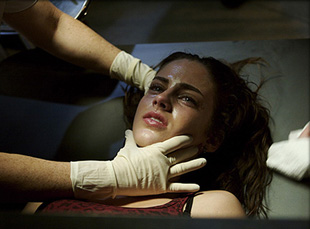 Posted by Vadim Rizov on
While police procedurals have made autopsy montages a common thing on television, on the big screen they're a little rarer. An autopsy isn't the pleasantest thing in the world to watch — for the squeamish or unspeakably scared-of-death, the camera's relentless gaze is a hard thing to hang with.
That also automatically makes an autopsy a set-piece of morbid interest, no matter how gruesome. Here are seven memorable movie autopsies strung across the queasiness spectrum.
"Doctor X" (1932)
Directed by Michael Curtiz
Getting into journalism can be murder, so, naturally, murder is the business of yellow journalism. To get the story on the "Moon Killer Murders" — taking place once a month during the full moon — journalist Lee Tracy has to toe-tag himself and lie on a table, covered up as a corpse while the police and Doctor Xavier (Lionel Atwill) go over the latest casualty. They're light on medical details but establish that the scalpel used is only obtainable at Xavier's academy. They leave, and a now thoroughly unnerved Tracy restores himself to the world of the living.
"The Act of Seeing With One's Own Eyes" (1971)
Directed by Stan Brakhage
This one's decidedly NSFW, and probably not safe to watch if you're in a fragile state of mind in general (even though this YouTube version has been appropriately censored). Stan Brakhage's unblinking look inside the morgue is silent and intense; bodies come and go, leveled into one solid clump of gray skin, spurts of blood and anonymous assemblies of organs. It's distressing, terrifying and occasionally disconcertingly pretty. The reason to watch it is right there in the title — you need to see this stuff to know who you are. (It's also arguably a companion piece of sorts to Brakhage's equally NSFW "Window Water Baby Moving," which chronicles the birth of his first child in ways that are almost equally unnerving.)
"Electra Glide In Blue" (1973)
Directed by James William Guercio
Robert Blake badly wants to be a homicide detective so he can wear a Stetson and strut with the big guys, but he's just a motorcycle cop, writing speeding tickets and hassling hippies for sport. So when he discovers a dead body, he's very invested in proving that the guy wasn't a suicide — after all, who shoots themselves in the chest? He has a screaming match with the coroner, but god-like detective Mitchell Ryan takes his side and goes to the autopsy. The coroner digs and digs, and comes up with a Colt 22 bullet he's reluctant to acknowledge (he tries to call it just a piece of irregularly shaped metal). Blake's vindicated and his career is off and running. This is a strange scene in an immensely strange movie. The clip below — which makes it look like just another '70s motorcycle oddity — doesn't even begin to give you the idea.
"Jaws" (1975)
Directed by Steven Spielberg
Autopsies aren't only for people — when a shark is going around your beach chomping on the main revenue source, it becomes important to slice up every dead shark and figure out if it's the culprit. Too bad that shark specialist Richard Dreyfuss is so abrasively eccentric when he figures out what he's up against in a town council insistent on trying to make the whole mess go away. Dreyfuss' response is shrill laughter and the bad idea that saying "Is anyone eating this?" is the appropriate response to holding a severed arm in your hand. A later autopsy goes a lot smoother; still, give "Jaws" credit for having that rarest of creatures, the comic autopsy.
"Seven" (1995)
Directed by David Fincher
There's nothing funny about "Seven," but it's consistently gorgeous, even when that's counter-intuitive. The first autopsy (which starts about 3:25 in the video below) stylishly cuts from rain on the windshield to water splashing over the bloated corpse of the first death — Gluttony, with the guts in a bag and a great deal of unpleasant detail, both medical and visual. (This is another NSFW excerpt.) David Fincher versus a dead body is kind of like Damien Hirst putting a shark in formaldehyde: it's just an object, there to be exploited for color and texture rather than something once living to feel upset and disturbed by. It's a cold-blooded attitude, but it works wonders.
"Blade II" (2002)
Directed by Guillermo del Toro
Guillermo del Toro's giddy vampire/kung-fu mash-up is better than it has any right to be, with its deranged semi-cubist Michael Bay approach to editing. But some things are too serious to mess around with, and for a dedicated fantasy/horror geek like del Toro, the autopsy of a mutant-vampire hybrid known as the Reaper is too good an effects showcase to pass up. We get a prolonged, gory sequence that's about as realistic as fake anatomy gets — one reflexive response sneaks in a scare even when there's no living threat in the room. (Skip to about 8:15 below.)
"A Certain Kind Of Death" (2003)
Directed by Grover Babcock, Blue Hadaegh
There are no real autopsies here if memory serves (although if you wanted a detailed look at cremation, that's available), but this documentary account of what it means to work in the coroner's office and identify anonymous deaths probably sets some kind of record for sheer corpse count — and, since it's increasingly hard to find in out-of-print DVD form, attention should be paid. It's disturbing and hard to watch, but essential if you can stomach it — it's an emotional autopsy, reconstructing people's lives from the saddest form of decay until they're built back up into real people.
[Photos: "Autopsy," After Dark Films, 2008; "Doctor X," Warner Bros., 1932; "The Act Of Seeing With One's Own Eyes," Criterion Collection, 1971; "Electra Glide In Blue," MGM/UA Home Entertainment, 1973; "Jaws," Universal, 1975; "Seven," New Line Cinema, 1995; "Blade II," New Line Cinema, 2002; "A Certain Kind Of Death," Winstar, 2003]