Chris Klein and the cruel comedy of audition tapes.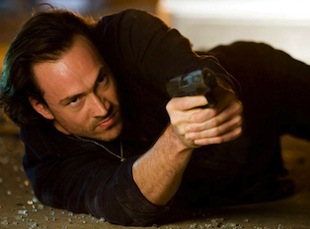 Posted by Matt Singer on
Poor Chris Klein. It's bad enough that the guy has been reduced to appearing in stuff like "Street Fighter: The Legend of Chun-Li." Now, he has to deal with the fact that late last week someone leaked a tape of his failed audition for the movie version of "Mamma Mia!" online.
After some awkward small talk, Klein says, "Let's go, shall we? Before I embarrass myself further," then proceeds to embarrass himself further and farther and more intensely than most of us will ever do in our lives.
For three-and-a-half excruciating minutes, Klein absolutely butchers ABBA's "Lay All Your Love On Me." Flat notes, vocal cracks, intense stares to camera, eyebrows that defy logic and gravity by refusing to go down — it's beyond terrible; it's guy-on-"American Idol"-who-can't-sing-but-who-gets-to-audition-for-the-judges-so-Simon-can-make-fun-of-him terrible.
Good sport that he is, Klein has made his own self-deprecating response video, in which he flunks auditions for "Twilight," "Dreamgirls," and more. But it doesn't do much to erase the discomfort of the original. And while everyone's falling all over themselves to make fun of Klein (including, let's not forget, Klein himself), we should remember that most auditions are incredibly, incredibly awkward. Every actor has bad ones; most actors are just lucky that they don't wind up on the Internet in front of millions and millions of people.
Even successful auditions can get awkward. Christopher Reeve scored the role of his life with a great reading of the rooftop flirtation scene between The Man of Steel and Lois Lane from "Superman." But the poor guy was so nervous, he sweated through his tights; he spends almost the entire scene in the classic superhero hands-on-hips pose, revealing some not-so-super pit stains (the evidence is in the below clip, beginning around 2:17):
Seth Rogen was still an unpolished Canadian teenager when he auditioned for a role in "Freaks and Geeks." Judd Apatow, the show's producer, cast Rogen, then brought him along to his next show, "Undeclared," encouraged him to write, and turned him into a movie star. It all started with this one very nervous audition. Look at the way Rogen fidgets and fixes his shirt; see the deer-in-the-headlights stare. Does this look like the audition of the future young king of mainstream comedy?
Or consider these two auditions by "300" and "The Ugly Truth"' star Gerard Butler, reading for the role of Dracula in "Dracula 2000" — or at least I think these are two auditions for "Dracula 2000." Sporting a terrible heavy metal wig and guyliner, Butler is so hilariously over-the-top that if I didn't know he ultimately got the part, I'd swear this was a parody à la Chris Klein's face-saving Funny or Die sketch. Judge for yourself:
This is why there are casting directors. It's up to them to see past these unrefined moments to the potential underneath. That doesn't make the process any less strange or, at times, any less of a crapshoot. To wit, here's a funny scene that lampoons that very idea from Shane Black's "Kiss Kiss Bang Bang," in which Robert Downey Jr. plays a robber who hides out from the police at a casting call with unexpected results:
Now, that is a great audition. But, please Chris Klein, don't get any ideas and show up to your next one bleeding.
On the plus side, Klein's fridge-nuking moment is about to be replaced in the public consciousness by another hilariously weird audition, this one featuring (and put online by) silicon-based life form Heidi Montag. In it, Montag tries to prove to Michael Bay that she's ready to take over for Megan Fox in "Transformers 3" by clumsily shooting a pistol on a gun range. I wonder if she knows any ABBA songs.
[Photo: "Street Fighter: The Legend of Chun Li, 20th Century Fox, 2009]