"Hey old man, you home tonight?": Seven cinematic atheists.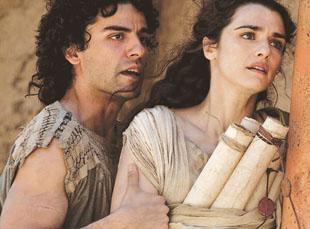 Posted by Vadim Rizov on
Friday sees the release of Alejandro Amenabar's "Agora" (alliteration!), which stars Rachel Weisz as a philosopher/scientist and courageous atheist suffering at the hands of rabid Christians in fifth-century Alexandria. The Catholic Church, predictably, is not pleased: "Your film is going to awaken hatred against Christians in today's society," wrote Antonio Alonso Marcos, president of the Religious Anti-Defamation Observatory.
Amenabar's less than convincing response, from the New York Times, was that his movie isn't anti-religious because "Jesus would not have approved of what happened to Hypatia, which is why I say no good Christian should feel offended by this film." Not, perhaps, a stellar example of QED reasoning. Nonetheless, Amenabar has roused some angry passions with his film, one of the few to have a militant atheist as a hero. Here are seven more movies that put the godless front and center:
Judy Craig (Lina Basquette)
"The Godless Girl" (1929)
Back in the days when atheism was much more unusual and a taboo, Cecil B. DeMille's last silent movie of course guaranteed the conversion of its titular character by the end. Anything else would've been unacceptable from the man fresh off "King of Kings." "The Godless Girl" has a fascinating back story almost equal to its excesses, in depicting a high school where atheists and believers slug it out physically, eventually landing everyone in juvenile prison. That's where atheist Judy and believer Bob finally fall in love (it helps that lightning striking the prison fence leaves them both branded with crosses on their hands). The film flopped domestically, although not, apparently, because of its subject matter but because people weren't in the mood for ridiculously heightened expressionistic delirium and, by 1929, a silent extravaganza seemed dated. The movie was, however, a success in the USSR — where the last reel was cut, changing the film into a celebration of young American atheists — and made a deep impression on Hitler, who sent fan-mail to star Lina Basquette.
Luke (Paul Newman)
"Cool Hand Luke" (1967)
"Hey old man, you home tonight?" Those are Paul Newman's opening words to God when he enters a church, on the run and out of time. God, of course, remains silent (a dark, featureless ceiling has rarely been so poignant), which is no surprise. Having earlier told God to strike him down during a thunderstorm, only to be (natch) ignored, Luke's atheism is in full force. That makes sense for a prototypical '60s rebel, but the film (as oft-noted) manages to have it both ways. Luke's a rebel, but he's also a prophet (the name's a dead giveaway), dying for the prisoners' sins and ending up enshrined as a martyr. It's not the most courageous move, arguably, but it's a satisfying one, perhaps even a good one for atheists — Luke's a real hero and inspiration, and he doesn't need God to do it. (The relevant scene below starts at about 7:30.)
Mickey (Woody Allen)
"Hannah And Her Sisters" (1986)
Many of Woody Allen's films nervously circle the topic of religion and God's absence — Allen having gone repeatedly on the record as a proponent of a philosophy of despair and Godlessness. "Crimes and Misdemeanors" is weightier — it has an actual rabbi going blind, which is as an explicit a metaphor as you could ask for — but "Hannah" is fleeter and more satisfying on that strand. Allen's crisis is played, for once, for laughs as he contemplates the Hare Krishnas ("You'd look like Jerry Lewis") and disappoints his parents by not going with "your own people." The best gag, though, is purely visual: Woody comes back from the grocery store having resolved upon Catholicism, taking out of his bag a Bible, a crucifix, a loaf of bread and a jar of Miracle Whip. Notably, he gets to keep his atheism: watching "Duck Soup" restores his belief in humanism.
Eleanor Arroway (Jodie Foster)
"Contact" (1997)
"Contact" isn't a very good movie, coming as it does in the troubling midpoint of Robert Zemeckis' career, after he'd abandoned expertly crafted pop entertainments but hadn't yet started his series of increasingly dark motion-capture features. ("Beowulf" and "A Christmas Carol," while far from perfect, are fascinating and some of the most morbid big-budget Hollywood movies in recent memory.) Because "Contact" is mostly a movie about ideas — alien life, the universe, God and everything else — it occasionally sputters to life even when the dialogue is sub-par. The scene where Dr. Ellie Arroway (Jodie Foster) is interrogated about her status as an atheist by a congressional inquiry looking to shoot her off to the aliens isn't one of those moments; the music tips the hand, and it's all a bit simplistic. Nonetheless, there's something bracing about a big-budget movie even going there — especially without the help of that tiresome cliché, the Hypocritical Christian. Worth noting: the Matthew McConaughey character is a religious man who wasn't ordained because he couldn't get behind celibacy. Sounds about right.
Rev. Graham Hess (Mel Gibson)
"Signs" (2002)
M. Night Shyamalan isn't Ingmar Bergman, and "Signs" is one of the shallower grapplings with matters of faith on film (one with an unfortunately ponderous dual-meaning title). Mel Gibson's Rev. Hess was an ordained Episcopal priest until his wife's untimely death, when he stopped believing in God. By the film's end, after a number of coincidences have saved the family from becoming alien casualties, Gibson concludes there's a God after all and goes back to preaching. If I were a devout person looking for someone to guide me through times of spiritual turmoil, I probably wouldn't turn to the guy who's willing to leave and/or rejoin the church based, basically, on how his day is going. Aside from all that, the finale undercuts what, up to that point, has actually been a pretty gripping sci-fi thriller and all but retroactively spoils the whole thing.
Mumble (Elijah Wood)
"Happy Feet" (2006)
Technically, there's no God and no talk of atheism in "Happy Feet." But George Miller's absolutely bizarre singing-penguins surprise hit is, among other things (it's so overloaded with subtext it's a wonder the movie functions at all, let alone with some success), a portrait of a heroic atheistic… penguin. Specifically, Mumble believes that the Antarctic fish have been less than prolific for some reason other than his invoking the wrath of the Great 'Guin, the deity-esque penguin who provides the animals with their sustenance. And he's absolutely right, but his explanation doesn't meet with the satisfaction of the tribal elders (who all look like refugees from Eisenstein's "Ivan the Terrible"), who banish him. That's some fierce religious rule right there. Fortunately, Mumble figures out the real source of the problem and leads the penguins in a dancing result, helping to ban Antarctic fishing. Phew.
Benito Mussolini (Filippo Timi)
"Vincere" (2009)
This is how you get attention: in the opening scene of "Vincere," young Benito Mussolini causes a meeting to turn into pure rioting chaos when he dares God to strike him down, then announces time's up. (He must have been a "Cool Hand Luke" fan — why's that the baseline test, anyway?) Mussolini, of course, is his own personal deity, a man with absolute confidence in himself. "Vincere" turns out to not be strictly about the man, but instead about his abandoned (and much worse) first wife and child. If "Vincere" seems to be drawing a dangerous link between fascism and atheism… well, the historical record's there, for better or worse.
[Photos: "Agora," Newmarket Films, 2009; "The Godless Girl," National Film Preservation Foundation, 1929; "Cool Hand Luke," Warner Bros., 1967; "Hannah And Her Sisters," MGM Home Entertainment, 1986; "Contact," Warner Bros., 1997; "Signs," Buena Vista Pictures, 2002; "Happy Feet," Warner Bros., 2006; "Vincere," IFC Films, 2009]