Review: "Arias With a Twist," puppetry and drag queen fantasies.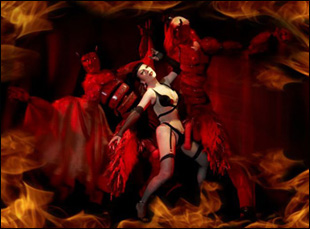 Posted by Matt Singer on
Reviewed at the 2010 Tribeca Film Festival.
Performance artist and Joey Arias and puppeteer Basil Twist provide an inspiring antidote to mass media's bottom line-driven culture in "Arias With a Twist," a "docufantasy" about the pair's respective careers and their highly regarded 2008 theatrical team-up (also named "Arias With a Twist"). In a world increasingly obsessed with wealth, celebrity and little else, Arias and Twist are true throwbacks: imaginative, compulsive creators driven by a need to express themselves rather than a need to have their own reality shows.
Their outlet in this case was a quirky collaboration that premiered Off-Off Broadway in June 2008 and combined Arias' drag queen fantasies with Twist's staggering talent for puppetry. Like fellow 2010 Tribeca Film Festival selection "The Last Play at Shea," "Arias With a Twist" isn't a concert film so much as it is a documentary that uses a performance as the lens through which it examines an artist's life and perspective.
Along the way, we learn about Arias' past in the downtown New York art scene of the late 1970s and '80s, and Twist's lineage as a third-generation puppeteer. (Some of the puppets in the "Arias with a Twist" stage show were used by Twist's grandfather, Griff Williams, in his orchestra.) And we get extended glimpses of "Arias"'s inspired lunacy; I was particularly intrigued by the sequence where Arias, in a corset and ladies underwear, sings Led Zeppelin's "Kashmir" while getting probed by Twist's puppet aliens. True to the song's lyrics, the rest of the show follows him as he travels through time and space, as Arias assumes the roles of everyone from Billie Holiday to Godzilla.
The doc's cast is filled out with a chorus of notable artists, performers, and cultural critics who uniformly sing Arias and Twist's praises. Sometimes, the compliments (from folks like Michael Musto, fashion designers Isabel and Ruben Toledo, and Cassandra Peterson, a.k.a. Elvira, Mistress of the Dark) get even more absurd than their show's aesthetic; one calls Arias "one of the funniest people on the planet" while another compares him to Picasso.
"Arias With a Twist" director Bobby Sheehan has known Arias for decades, and there isn't a whiff of criticism or critique anywhere in the film; from start to finish, it is as puffed up as a package of marshmallows. But so what? Arias and Twist certainly aren't getting rich off this stuff. They deserve some recognition for their impressive work.
"Arias With a Twist" is currently without distribution.
[Photos: "Arias With a Twist," Working Pictures, 2010]