Review: "American Mystic" searches for spirituality.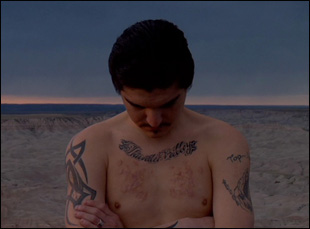 Posted by Matt Singer on
Reviewed at the 2010 Tribeca Film Festival.
Freedom of religion is one of the fundamental liberties our country was built on, but is that freedom unlimited? Yeah, you can worship whatever or whomever you choose, but stray from one of the more popular and socially acceptable monotheistic religions and you're certain to butt up against prejudice, intolerance, and ostracism. The documentary "American Mystic" captures how three young people of three different faiths — Spiritualism, Lakota and witchcraft — deal with the realities of their unusual religious choices.
On paper, many of their beliefs sound strange. Two of the three subjects admit to hearing voices and attempt to communicate with spirits, another pierces his skin to show his devotion to God, his body covered in scars from years of practice. With that in mind, I think, director Alex Mar brings us inside these people's lives and presents their religions from their own perspective. "American Mystic" contains very little dialogue that isn't delivered in voiceover narration from its three subjects; most of the film is comprised of impressionistic and very attractively photographed images of their lives wedded to audio of the characters talking about their philosophies. There is Kublai, traveling as part of his studies to become a faith healer; Chuck, who reconnected with his Native American ancestors' religion as part of his recovery from alcoholism, and Morpheus, who is turning her husband's family's land in California into a pagan retreat.
The three never meet and their lives do not intersect, though they do share some problems (i.e. none have very much money). No external voices are introduced, no experts are provided to contextualize these religions, no alternative viewpoints offered. Though Mar gets a good amount of access to her subjects and their spiritual ceremonies and rituals, the lack of dialogue and the focus on disembodied voiceover keeps us at a remove from Kublai, Chuck and Morpheus. It is as if Mar doesn't want to pry into their lives, merely observe from a safe and respectful distance.
Her sensitive approach yields a poetic film about people's struggle to maintain their deeply held beliefs in a world that doesn't share them. Just don't expect much drama; there's three stories here but no real narrative, and two of the three main characters live very stable, even passive lives. It's only Kublai, still searching and learning, who ends the film in a different place than where he started. At times, that makes for less than provocative viewing, yet that may be Mar's point. It would be much easier for these men and women if they did change, and conformed to fit in with the rest of us. Their determination to continue down their own path is, in its own quiet way, an act of rebellion.
"American Mystic" does not yet have U.S. distribution.
[Photos: "American Mystic," Empire 8 Productions, 2010]