Al Pacino and Robert De Niro to star in Scorsese's Sinatra biopic.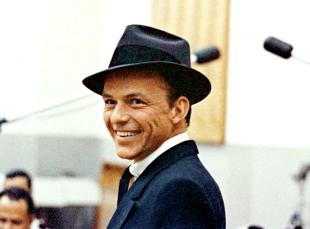 Posted by Brandon Kim on
Last summer when I heard that Scorsese was considering Leonardo DiCaprio to play Frank Sinatra in his coming biopic, I prayed for an intervention. I dig the actor and the team they've made, but Scorsese's DiCaprio addiction has just gone too far now.
I figured that producer Tiny Sinatra, Frank's daughter, who holds the rights to his music would win out with a Clooney pick. But now, blow out time, it looks like it's going to be Al Pacino. According to NME (via The Hindu), Robert Deniro is Scorsese's choice for Dean Martin too. Now the Heatis on, I expect Pacino to really go for it, hooha great ass time.
There's still time for DiCaprio and plenty of others though if they play through the script Scorsese currently has in the works. "We can't go through the greatest hits of Sinatra's life. We tried this already. Just can't do it, " the director said, "So the other way to go is to have three or four different Sinatras. Younger. Older. Middle-aged. Very old. You cut back and forth in time – and you do it through the music. See what I'm saying? So that's what we're trying for. It's very tricky."
If you're wondering whether Pacino playing the elder Chairman of the Board will please Sinatra's son, Frank Jr, I wouldn't hold your breath. He didn't seem to care for anyone mentioned to him in an interview earlier this month, in fact, he didn't seem to care for anything at all. He's clearly upset about not being approached for his input sooner, and who can blame him. When Mark Wahlberg was brought up as a possible choice, Frank Jr. said he hoped that doesn't happen, "Because we need an actor." Damn. The best though was his terse, cynical response to the idea of Dicaprio playing his legendary father, which was simply "Box office."
That poor interviewer. She did get something useful out of him though on the perils of biopics and exactly what irks him. "I'll tell you what it is, and like I said, when the legend is made bigger than the person, all of a sudden we lose the person and not everything that becomes, shall we say legendary, is necessarily true. We can blow things out of proportion and it finally gets to the point that it just is not anywhere near the real picture. This is the problem. I'm talking about somebody that was painfully human."
Aren't we all.