Where our greatest actresses fit in at the multiplex and at the arthouse.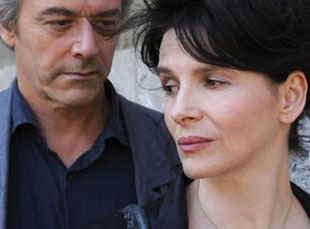 Posted by Vadim Rizov on
Shortly after the Cannes awards were over, the London Times' Kate Muir sat down with Best Actress winner Juliette Binoche to conduct an interesting interview.
Muir makes the observation that Binoche "is one of the few actors to cross, undamaged, from mainstream to arthouse and back." That's a select club — one whose female population might be argued to include Penelope Cruz, Nicole Kidman, Naomi Watts, Julianne Moore, Tilda Swinton and few others.
That cluster doesn't have much in common, except that all were big stars of the past decade without big hits. Watts and Moore can be a little more hit-or-miss with the scripts they choose, while Swinton isn't as well-known, which gives her more liberty to dip into both paycheck supporting roles ("The Chronicles of Narnia") and hardcore arthouse exercises ("The Man From London"). Penelope Cruz has more charisma than chops, but she's never boring to watch. Regardless, we have a lot of talented actresses distinguished by their dedication to small films, perhaps by necessity.
It's considered smart for all but the most infallible stars to, from time to time, diversify their resumes with low-budget parts presumably designed to shore up their cred. Binoche, uniquely, seems to have almost never taken the paycheck in the first place. With the exceptions of "Chocolat" and, uh, "Dan In Real Life" (which I've heard is above average anyway), she's managed to be One Of The Few French Actresses People Know By Name while barely coming anywhere near the multiplex. It's an impressive trick.
Part of the reason Binoche seems not to belong anywhere near the multiplex is simple: aside from Swinton on the above list, few performers take so much trouble to actively alienate their audiences. Watching her is to see cerebrality in action.
Which is precisely why I like her. Binoche is a chilly actress. As a harridan in "Cache," she rocked; as a self-absorbed thespian (making up most of her dialogue!) in "Flight of the Red Balloon," she gave arguably the definitive portrait of what it means to try to be a good single mother while maintaining a career. She's chilly, much more so than Kidman or her fellow arthouse standbyes, which makes her fascinating. She's a crossover star best known for her possibly worst movie ("The English Patient") well recognized without having a mainstream career.
Globally, our best female actors (such as Binoche, who rules) tend to be given parts that take out everything that made them interesting in the first place. If they're safely famous outside the blockbuster circuit, that gives them the liberty to ignore their presumably star-making roles (never a safe bet there days) and cred to go back and forth. The franchise rarely rests on them: Gwyneth Paltrow gave both "Iron Man" movies some juice, but apparently that doesn't matter no matter how much better she made the movies.
Sexism doesn't exist in an overt form; it's just there in the proof that talented female actors settle for indie films far more than they should. Binoche could've been a star (or at least starlet) in a previous age; now she just takes serious parts because, honestly, why not. Writers are plentiful; good female parts, not so much.
[Photos: "Certified Copy," IFC Films, 2010; "Flight of the Red Balloon," IFC Films, 2007]