You Really Got Me – The Kinks!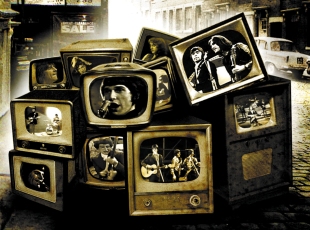 Posted by Brandon Kim on
There's one 60's British invasion band that remains relevant for me above all others, and though not as magical nor as consistently great as The Beatles, they're so much more hard hitting. This becomes more true each passing year as The Beatles catalogue gets limp and washed out in advertising campaigns and Rock Band.
But The Kinks remain infinity playable, with gems still long overlooked by an American public who barely knows them. Their popularity never truly got to peak after they were banned from America for four, long crucial years in 1965. Those Davies boys were a bit too rowdy for us I guess, preservin' the old ways from bein' abused.
"You Really Got Me: The Story of the Kinks" might sate an appetite for all those missed Kinks performances. The doc features footage from concerts and television appearances from abroad, as well as some from the US (before or after the ban). Among the performances are You Really Got Me, 'Til The End Of The Day, Waterloo Sunset, Days, Celluloid Heroes and Death Of A Clown. Commentaries by Ray Davies, Dave Davies and Mick Avory included. Here's a look:
Ray Davies will be playing Glastonbury at Worthy Farm in Somerset between June 25-27 in the UK (with U2 and Stevie Wonder headlining) this summer too… in case you're the sort who rolls out to Glastonbury. He'll be playing "legends slot" on the Pyramid stage with a choir. [NME]