Why does it matter who makes "Twilight"?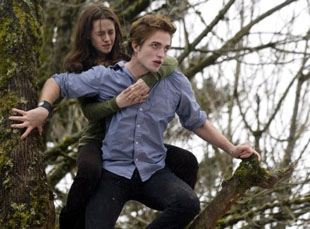 Posted by Vadim Rizov on
According to Lainey Gossip, "Twilight: Eclipse" is up for some reshoots. There are "creative differences" between director David Slade ("Hard Candy," "30 Days of Night") over some scenes that need to be reshot if the June deadline is to be met. Let me reiterate: there are "creative differences." About "Twilight."
If there's any franchise that has less need of worrying about "creative differences," for the life of me I can't think of it. "Twilight" is one of the most presold brands of the last 10 decades, one that needed no cred behind the camera to succeed. Presumably the reason why Catherine Hardwicke was picked to direct the first "Twilight" because "Thirteen" demonstrated she had a touch with teenagers (sure, whatever) and Chris Weitz did "New Moon" because he, uh, did such a fine job with "The Golden Compass" (and its CG). Presumably David Slade is working on the third because he already made one vampire movie? No clue. They might as well have gotten one of the "Saw" guys.
Consider this: names bandied about the fourth installment include Bill Condon, Sofia Coppola and Gus Van Sant, the most firepower brandished at the series yet. Bill Condon's name actually makes sense: as the writer of "Gods and Monsters," he knows genre fare, and directing "Kinsey" and "Dreamgirls" proved he could be a competently anonymous craftsman. Even Van Sant almost makes sense: "Good Will Hunting" and "Finding Forrester" were safely anonymous, and "Elephant" and "Paranoid Park" proved he knows teens. He could certainly usher the young actors through in competently journeyman fashion (though imagining a "Last Days" style rendition with long tracking shots through the woods is amusing — and, if nothing else, we know there's a lot of woods out there).
But Sofia Coppola? Is it possible to imagine our leading specialist in fragile femininity toning it down and just going through the motions, no matter how big the paycheck? Surely not, but here's the rub: even if Coppola went her own way and had final cut, the movie would make millions regardless. The Twihard nation is a dedicated one: literate with the books, both Team Edward and Team Jacob will show up no matter what. What Summit Entertainment has on their hands is a chance to make the artiest, most indulgent fourth blockbuster franchise installment in the history of film and not even risk that much on it. The first film dropped 62% in its second weekend; the second dropped 70%. It just doesn't matter.
Let David Slade make his movie; no one will notice anyway. And then let Van Sant or Condon or Coppola run riot over the fourth film. It's a rare chance for profitable creative philanthropy.
[Photos: "Twilight," Summit Entertainment, 2008; "Last Days," Fine Line Films, 2005.]