At the movies with David Foster Wallace.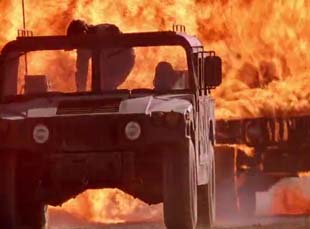 Posted by Vadim Rizov on
Anyone interested in the late David Foster Wallace should think about reading excellent essay about David Lynch, there's a lot of movie talk in the book, mostly centered around the Hollywood products he was most invested in. It's 1996, so Lipsky and Wallace go to "Broken Arrow." Wallace casually says things like "You ever see 'Johnny Mnemonic'?" and suggests Pauline Kael would be a "a good model" for passionate criticism. He doesn't like Woody Allen ("I don't think his humor's all that subtle, it seems like a schtick to me") and thinks James L. Brooks "has the heart of a whore." There are a lot more asides along those lines.
Beyond the fun of seeing Wallace kick around such specific ephemeral moments, there are a few bigger points worth noting. Regarding shows like "Love Boat" and "Baywatch," he speculates that "the stuff that makes no attempt to surprise or do anything artistic, is so profoundly soothing… artwise maybe not the greatest art. But the function it provides is deep in a certain way." Not, he adds, that "you should go around being some kind of scholar of pop culture," but that some art "finds a way to take care of you […] kind of despite itself." But four pages later, talking about predictability in mainstream movies, he notes to Lipsky that "we're viewers where you know if you've got Tom Sizemore, that you've ruined the movie for us." Because Sizemore always gets typecast as the psycho.
Wallace talks at multiple points about the need to find a way out of being buried by a cultural field of crap while also being completely conversant with it, completely aware (and predictably self-conscious) he feels at least a little guilty about that. But moreover he's talking about watching stuff that's supposed to be comfortingly predictable and playing games with it; he's hypnotized once he destroys the very comforts that come with just sitting and letting the movie walk over you.
It's clear that he found those experiences meaningful, discussing (and, more revealingly, quoting) them casually with great knowledge. Outside of "Blue Velvet" and "Brazil" (both of whose personal importance he discusses at length), it seems possible that his most enjoyable viewing experiences came engaging with the very stuff whose seductive powers he could both see right through and get totally sucked into.
This is a different beast from the argument that movies are "just movies" and should be enjoyed without guilt or thought, nor is it about fetishizing exceptionally bad ones. It's about really enjoying mediocrity and diving into it, reveling in the tiniest cracks between the formulaic and the odd surprise, treating every movie as something to toy with — an experience that's maybe more exhilarating than watching something that actively challenges you, because you're the one doing all the work. The movie's just something to impose yourself on and figure out how this Sizemore appearance differs from all others (or doesn't).
[Photos: "Broken Arrow," 20th Century Fox, 1996; "Brazil," Criterion, 1985]