In search of Wall Street's answer to "Shattered Glass."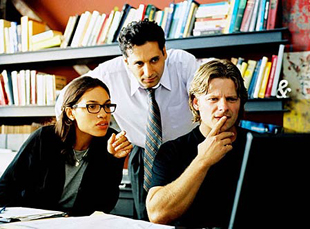 Posted by Vadim Rizov on
You can learn so many things from procedural movies. Watching "A Man Escaped" and "Escape From Alcatraz," you can find out a great deal about escape strategies to use, should you find yourself in a prison fifty-some years old. Watching "Pickpocket," you can learn that playing pinball is a great way to get your fingers in shape for stealing someone's stuff. Should you wish to learn about fact-checking in a large journalistic organization, you could watch "Shattered Glass"; if you want to see how to set up an excruciating but valid chain of evidence in a police investigation, see "Zodiac."
Watching these movies, of course, won't guarantee that you'd be any good at any of these things. They might, however, give you a realistic sense of the inside of a prison, magazine or police station. That's helpful, because most people only understand the inside workings of their own professions — audiences might emerge with more sympathy for the editorial staff, or the harried investigator, or so on.
It's high time someone make a detailed movie about how the world of finance work, because it's becoming more and more impenetrable every day. Jon Stewart spent part of a recent episode of "The Daily Show" mocking financial talking heads for treating cable news viewers like idiots by trying to compare the Goldman Sachs fraud lawsuit to selling rotten apples, buying used cars or picking the Mets-Yankees player line-ups instead of actually explaining what was going on. It seems that very few people truly understand what a futures market might be, why derivatives need to be regulated or how we got in this mess in the first place.
Sure, making an instructional narrative movie about Wall Street (presuming "Wall Street: Money Never Sleeps" isn't going to be it) seems like a potentially didactic idea. ("Shattered Glass" clarified a lot of things about the millennial plagiarism scandals, but didn't set the box-office on fire.) But if it's okay to dramatize political scandals (as in Doug Liman's upcoming take on Valerie Plame) or the founding of Facebook (as in the upcoming Aaron Sorkin-written film), surely the endlessly unfolding fallout of our new recession deserves the same attention to minutae.
As it stands, all we have is Oliver Stone, who's more into ethos and the prevalent atmosphere than the details. I nominate Billy Ray, who — with "Shattered Glass" and "Breach" — proved he's very good at laying out seemingly mundane events with dramatic repercussions.
[Photos: "Shattered Glass," Lions Gate Films, 2003; "Wall Street: Money Never Sleeps," 20th Century Fox, 2010]