Christopher Walken, unhinged and looking for his hand.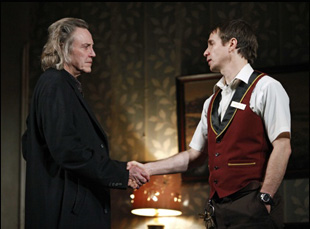 Posted by Matt Singer on
Several characters in Martin McDonagh's "A Behanding in Spokane" spend a good portion of the play handcuffed to the walls, cowering in fear at the feet of Carmichael, a terrifyingly deranged man desperately in search of the hand he lost 47 years earlier. This image also works as a handy metaphor of what it must be like to share a stage with the man who plays Carmichael, the delightfully deranged Christopher Walken. There's not a whole lot you can do but speak when spoken to, stay out of his way, and watch him work.
Walken on stage speaks exactly like Walken on film — as a man with a punctuation allergy. Sentences string together, pauses arrive seemingly at random. He's working from a script, but you'd never know it from the way he not only talks but also how he reacts to his own performance. Near the end of the play, Carmichael tells Mervyn (Sam Rockwell, or at the performance I saw, capable understudy Dashiell Eaves), the only employee of the fleabag hotel where he's staying, "You, Mervyn, are a very brave receptionist." In context, the line's funny; in Walken's one-of-a-kind delivery, it's hilarious, and after the audience erupted with laugher, Walken seemingly broke character and cracked a huge smile. Or maybe it was a choice, and it was all in character. Who knows? One of the absolute pleasures of seeing Walken on stage is that moment to moment, scene to scene, you genuinely have no idea what he will do or say (or how he will do it or say it) next. In moments like that, he seemed as surprised by what comes out of his own mouth as the audience.
Fans of McDonagh's feature directorial debut "In Bruges" will recognize and appreciate, some thematic similarities between the film and his latest play. Both "Bruges" and "Behanding" tell stories of displaced underworld figures, waiting in a sort of purgatory, searching for redemption. Both are about violent people who don't take violence lightly, and feature characters who are not only dangerous and scary, but also funny, sad, and even a little pathetic; when Carmichael believes a couple of con artists (Anthony Mackie and Zoe Kazan) know where his hand is, but the pair don't come through on their end of their bargain, guns and homemade bombs quickly enter the story. Each piece features a character who not only isn't afraid of death, but is actively curious about it, and each narrative is instigated by a brutal act of violence against a child.
On the whole, "Bruges" is more poignant than "Behanding," which pitches its comedy so broadly that at times it starts to resemble a Neil Simon farce as reinterpreted by Quentin Tarantino. It's also a bit more satisfying. But as strong as its performances by Colin Farrell, Brendan Gleeson, and Ralph Fiennes were, "Bruges" didn't have Christopher Walken live on stage, wandering, riffing, smiling, goofing off, pouring gasoline on people, and cracking dirty jokes. Walken's great in every film, enlivening even projects like "The Country Bears" and "Gigli," but watching him in person is something even better. Taking in a performance of "Behanding" is like watching the bomb Carmichael makes out of a gas can, an oily rag, and a candle: you sit there watching in twitchy anticipation for the explosion that could happen at any second.
[Photos: "A Behanding in Spokane," Joan Marcus, 2010]