IFC.com needs your vote!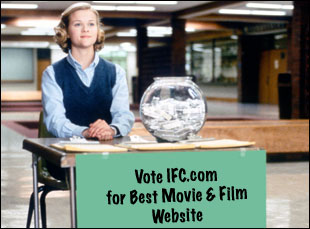 Posted by IFC on
We're ever so proud to announce that for the second year in a row, IFC.com has been nominated for Best Movie & Film Website in the Webby Awards. We've got some tough competition, but we're pulling for us, and we hope you are too, because we could use your help.
As a nominee, IFC.com is also eligible to win a Webby People's Voice Award, which is determined by online voting. From now until April 29th, you can can cast your votes at webby.aol.com. It's free and it takes no time to register. If you're a fan of our site, please consider voting for us! And if you so desire, you can Tweet your votes right from the polling page.
Vote for IFC.com (our undying gratitude, though not cupcakes, guaranteed.)
[Photo: Tracy Flick thinks you look like you could use a cupcake; "Election," Paramount Pictures, 1999]