A vigilante movie reforms Michael Caine.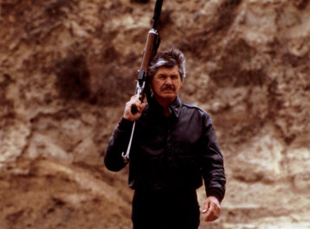 Posted by Vadim Rizov on
The vigilante movie doesn't have a history of bringing out responsible social discourse. There's a more lip service paid to law and order now than in the days when audiences cheered on Charles Bronson's one-man clean-up exercises (you're supposed to feel a little guilty about it), but there's still almost none paid to first causes. The first mission of any decent vigilante movie is to decry the complicated legalities of the judicial system, and thereafter to mock any bleeding-heart liberals who want to talk about abusive backgrounds.
It's surprising, then, to see Michael Caine talking with evident sincerity about how the forthcoming "Harry Brown" changed his mind about national service. Appearing alongside Conservative Party leader David Cameron, Caine described how working on the film led him to talk with "people who would scare the daylights out of you," and how they all told him "he didn't get a chance. Well he probably did get a chance and he missed it. So we should give him a second chance." The new National Service Plan — if the Conservatives get into office — would be voluntary but pushed as something all 16-year-olds should do (i.e., outdoor team-building and caring for old people).
The funny thing about this is that "Harry Brown," by all accounts, is not the world's most progressive movie. Instead, it offers audiences the chance to watch Caine fire guns at a bunch of people until everyone's dead and the whole mess is cleaned up. In this respect, it's doubly odd that the level of breakthrough Caine reached on the movie isn't reflected in the actual product.
Somehow British film appears to just be catching up with the American '70s, with the regressive attitudes of "Harry Brown" and 2007's "Outlaw" reflecting an unrepentant attitude towards cleaning up the streets. (Not to be confused with a movie like 1971's "Get Carter," which gives Caine a very specific gang to hunt down — revenge and vigilante-ism are not the same thing.) But it's leapfrogged ahead of the kind of conversation vigilante movies spark here with Caine's statement. I mean, just imagine what would've happened if Charles Bronson had stood alongside Gerald Ford in 1974 and championed youth service. We'd be living in a parallel universe right now.
[Photos: "Death Wish," Paramount, 1974; "Harry Brown," Samuel Goldwyn Films, 2009]