Video Premiere!: Sugar & Gold – "Stay Soft."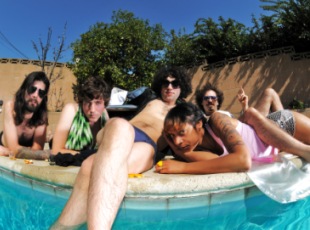 Posted by Brandon Kim on
Remember the old Cinemax movie intro from the 80's? This was before your friends started calling it Skinemax and you watched countless lewd B-movies with them late night, laughing at the soft core. I'm talking about the early intro, some call it a bumper – the one with all the flying through space occupied by whirling neon objects and a minimal geometry font that spells movie.
[Sugar & Gold livin' it. Photo by Wes Rowe.]
Fun with shapes and colors on an Amiga graphics workstation! How far we've come. Director Sam Young was inspired by one of those old intro's (though I might have guessed it was HBO's instead) when he crafted this new video for Sugar & Gold's, Giorgio Moroder-soaked jam called "Stay Soft."
Young adds, "This is the second video I made for Sugar & Gold, and I knew I wanted this one to be a visual departure from the first. Whereas the "Neighborhood" video had a hand-cut paper collage look, I wanted the "Stay Soft" video to be a fluid light show, as if we're on a roller-coaster at night."
"Stay Soft" is a track off this hilarious SF party band's second album, Get Wet!. I read a description of them somewhere that involved electronic workouts being "buttressed" by jumping jacks, and hairy chests in leather vests (or the like) and found that word choice hard to improve upon.
"Get Wet!" is available April 27th, 2010, on CD, MP3, and High Quality Vinyl LP on Antenna Farm.