Eight movie characters who show off their video game skills.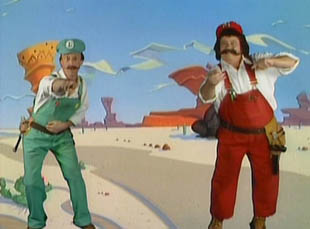 Posted by Vadim Rizov on
Recently, Roger Ebert re-entered the "can video games be art?" fray with a resounding "no!": "Why aren't gamers content to play their games and simply enjoy themselves? They have my blessing, not that they care." He's kicked off the usual counter-responses and angry passions.
A less loaded question might be: can the act of playing video games on screen be art? Looking through the examples below, the answer seems to be apparently not — most of the time, the experience of engaging with game-playing culture in a movie turns out to be nothing memorable. But there have been exceptions. Here are eight highlights, for better or worse, of fictional movie characters flaunting their expertise in various video games:
Scott Larson (Michael J. Fox) in "Midnight Madness" (1980)
Remembered as a movie that got Disney in some mild hot water with parents — the PG rating didn't account for a college kid diving into a vat of beer — "Midnight Madness" was the brainchild of twin film school whiz kids, UCLA's Michael Mankin and USC's David Wechter, whose student shorts were so impressive Disney gave them carte blanche. The result was this comedy about an all night-scavenger hunt across the city which, while long-forgotten by most, has spawned some real-life imitators. At the point in the film of the clip below, our heroes are stuck in a video game trying to get the next clue by beating "Star Fire," but not even all the quarters arcade proprietor Paul Reubens gave them can help them beat it. Enter video game whiz kid Michael J. Fox.
Dorfus (Jim Greenleaf) in "Joysticks" (1983)
"Midnight Madness" cashed in on the growing arcade craze, but only in passing. For full-on exploitation, there's "Joysticks," a post-"Porky's" hybrid of video games, farting and T&A. It's centered on an arcade full of degenerates, with pratfalls including hot dogs falling down girls' shirts — which naturally arouses the ire of local businessman Joe Don Baker, less formidable without his big stick from "Walking Tall." Below you'll find the climactic faceoff between Dorfus (Jim Greenleaf) — the local obese champion — and King Vidiot (Jon Gries), who appears to have come straight from the Siouxsie Sioux show, make-up and blue hair intact. The climactic challenge? "Satan's Hollow."
Jimmy (Luke Edwards) in "The Wizard" (1989)
This '80s relic is a semi-incomprehensible combination of "Rain Man" and an extended Nintendo commercial. Traumatized young Jimmy (Luke Edwards) — silent since his sister's death — hits the road and winds up at "Video Armageddon," a tournament play-off with a $50,000 cash prize. We're supposed to believe that Jimmy is related to both Fred Savage and Christian Slater, which is pushing it. No less an authority than Roger Ebert objected to the portrait of underage kids wandering through Reno gambling casinos without ever getting into real danger. The finale is an extended trek through "Super Mario Bros. 3" — at the time, available only in Japan. Of course it's all on YouTube (someone has helpfully appended a real and very creepy commercial for the game at the end) — and, of course, someone else helpfully put up what it would look like if a professional played it, realism being important in these kinds of situations.
Freddy Krueger (Robert Englund) in "Freddy's Dead: The Final Nightmare" (1991)
It was inevitable that Freddy Krueger would finally get around to killing a kid through a video game — it took the franchise six goes round to get to it, but it was well worth the wait. Before Breckin Meyer solidified a kind of fame and fortune as the live-action Jon Arbuckle of the "Garfield" movies, he was just some stoned kid on a couch, watching Johnny Depp (credited as "Oprah Noodlemantra") in one of those horrendous "This is your brain. This is your brain on drugs" commercials. Freddy wacks Depp in the face with a frying pan and invites the stoned youth to step into the video game — and when he can't beat him in the game, he just plays him instead. That's what the Power Glove is for.
Trent (Vince Vaughn) in "Swingers" (1996)
"Swingers" holds up remarkably well for a hot-topic '90s indie about LA douchebags. If you've ever dealt with the type of drama student who can dream of nothing better than acting like a Sam Shepherd character when they're not actually acting in a Sam Shepherd play, the film's patterns of competitive behavior and jokey violence erupting over nothing will ring particularly true. But "Swingers" also contains one of the more famous video game-playing scenes out there, a good chance to reminiscent about what video game hockey looked back in the mid-90s. It's also a reminder of what a freakishly good-looking, thin guy Vince Vaughn was before he realized he could get away with anything.
Eric (Eric Deulen) in "Elephant" (2003)
"Elephant," Gus Van Sant's exploration of Columbine, tries to evade all responsibility for getting its aesthetic kicks out of the slaughtering of the innocents by throwing every possible explanation at the screen. Were the kids picked upon geeks? Did they have repressed gay tendencies? Or — perhaps — was it those darn violent video games? Skip to the four-minute mark in the clip below, where Eric (Eric Deulen) plays a first-person shooter — not just any first-person shooter, but on in which he's just walking around the desert, shooting unarmed and unaware people in the back of the head. In other words, he's playing "Gerry," Van Sant's previous film, which also consisted largely of guys (played by Casey Affleck and Matt Damon) walking through the desert. It may be the only fake video-game ever concocted to mock an arthouse film.
Jeff (Nick Swardson) in "Grandma's Boy" (2006)
Lest we forget that not all video games are solely a matter of using one's hand: sometimes the feet and those funky dance instincts get involved too. "Dance Dance Revolution" has never had much appeal to me, turning something that requires some kind of rhythmic sense (not to mention self-confidence) into what's basically jacked-up aerobics for nerds. "Grandma's Boy," which stars Allen Covert as a 35-year-old video game tester forced to move in with his grandmother, features a DDR dance-off, just one of the many reasons it's fundamentally unwatchable. The fact that there's a scene where the man character accidentally ejaculates on his friend Jeff's (Nick Swardson) mom is another.
Gary Grobowski (Vince Vaughn, again) in "The Break-Up" (2006)
These days, of course, gaming is no longer just for the arcade (a vanishing breed of business) or for living room fun with your buddies. Thanks to innovations like Xbox Live, some of the most sophisticated technology known to man can be utilized to enable Vince Vaughn to taunt little kids while playing Madden. "The Break-Up" is a strange, rancid little movie that doesn't fulfill the expectations of the traditional romantic comedy. Rather than being funny, charming or even just pandering, it's abrasive, realistic and unpleasant in an unenlightening way. Then again, it does have Vaughn back in front of the console, unleashing some "Wedding Crashers"-worthy taunts at his unseen, underage opponent before distracting Jennifer Aniston's date. Welcome to 21st century technology's wonders: traumatizing kids and ruining Aniston's romantic life.
[Photos: "The Super Mario Bros. Super Show!," UAV Entertainment, 1989; "Midnight Madness," Buena Vista Home Entertainment, 1980; "Joysticks," Liberation Entertainment, 1983; "The Wizard," Universal, 1989; "Freddy's Dead: The Final Nightmare," New Line Cinema, 1991; "Swingers," Miramax, 1996; "Elephant," HBO Films, 2003; "Grandma's Boy," 20th Century Fox, 2006; "The Break-Up," Universal, 2006]