The big-screen afterlife of TV shows.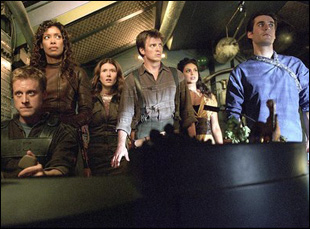 Posted by Vadim Rizov on
It's not entirely clear why canceled TV shows aren't content to go away and die somewhere quietly, though in today's world of corporate synergy that values brands, nothing is really ever prepared to die. If they can, they will return as movies, to general public bafflement. Such was the case with "Serenity," Joss Whedon's continuation of the culty "Firefly," which didn't make back its budget until hitting DVD in spite of a hardcore fanbase. Likewise, there has been more drama surrounding possible big-screen continuations of "Arrested Development," HBO's follow-up to "Rome" and "24" (which begs the question wouldn't a two-hour movie in real time have to take place on one set pretty much?) than any resulting movie could have and like the upcoming "Sex and the City 2," in which the ladies visit fabulous, alcohol-soaked Abu Dhabi (?)," I'm not sure we really need them.
This is all marginally less cynical than the now-outdated practice of simply repackaging TV series for theaters — something that once happened and now would be laughed off the screen. Yet it worked for the smartly exploitative producers of "The Man from U.N.C.L.E.," who realized their James Bond-esque universe (logically enough, since Ian Fleming contributed to the show's creation) could make even more money in the theaters. And so audiences globally were treated to no less than eight "movies" culled from reedited episodes, all of which have entertaining titles, from the straight-up Bond-ly "How To Steal The World" to the mild-mannered "The Spy in the Green Hat" (that's all? really?).
The selling points of the Frankensteined films were color (the first two "U.N.C.L.E." episodes turned into movies were shot in color but only broadcast in black-and-white), added sex and violence, and guest stars. Bypassing the big theaters, the movies went directly to neighborhood theaters and eventually skipped American theaters entirely and went straight for the lucrative foreign market, which has always been less than picky about its American imports. This is only slightly less stupid than, say, James Cameron deciding to re-issue "Avatar" with less of those boring war sequences and more of the "deep stuff" about "Pandora's ecology."
Another TV series that got the re-edited cinematic treatment was the original "Battlestar Galactica," which at least could claim a novel justification: the pilot episode was interrupted for an hour by the signing of the Camp David peace accords. (Why there were two more subsequent movies is a different question.)
So let's give thanks, at least, that TV producers looking to keep a good thing going won't just splice 15 minutes of "too hot for TV" footage into something; that's what DVD is for. That said, it's worth your time to look at the fairly insane trailer for 1967's "Man from U.N.C.L.E." spinoff "The Karate Killers," which pointedly announces "This may well be one of the most exciting pictures you'll ever see on any screen." Indeed. Co-starring Joan Crawford…and Terry-Thomas:
[Photos: "Serenity," Universal Pictures, 2005; "The Man from U.N.C.L.E.," NBC, 1964]