"True Blood" nympho Lizzy Caplan stars in "Queens of Country."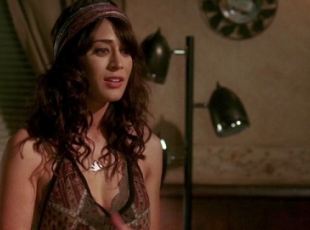 Posted by Brandon Kim on
You probably know Lizzy Caplan from HBO's "True Blood," where she played the unlikely, Wellesley educated, cruelly hot girlfriend of Jason Stackhouse. At first a dream girl, her hippie love spiraled into out of control obsessions with drug-(vampire blood)-addled sex. It was all crime and perfect breasts and huge hallucinogenic orgasms once she got going. I'd put her down as 2008's most unforgettable character in a TV show.
[Caplan as Amy Burley from HBO's "True Blood."]
She's set to star now in a film called, "Queens of Country," that sounds so far like it's going to have a flash drive full of what I consider good country music. The film is a comedy that "follows a young woman who is obsessed with artists like Loretta Lynn and Dolly Parton. She comes across an iPod full of songs from these 'Queens of Country,' and is hell bent on finding its owner, who she thinks will be her true love," reports Gordon and the Whale.
It's being directed by Ryan Page and Christopher Pomerenke ("Blood Into Wine"). A few months ago Page gave an interview to Movieweb where he spoke about the film but there was no name attached to the description he gave of the lead actress who had yet to be cast.
It's about a woman that lives in a small town, and she is obsessed with the queens of country. Dolly, Loretta, Patsy, Wanda Jackson. She even dresses like them. She is totally obsessed…. She is a line-dancing champion. She is also in love with herself. She is infatuated. She masturbates to her own image in the mirror.
Perfect. Lizzy Caplan touching herself to Jolene. Tool's Maynard James Keenan plays the villain, called Bobby Angel. Wanda Jackson and Ron Livingston also appear to be cast. Maybe we'll get a Dolly cameo.