A Tree of Souls grows in London.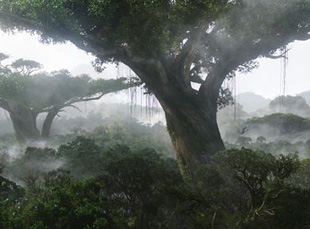 Posted by Vadim Rizov on
Amid all the fuss about "Avatar" shattering Blu-ray sales records, there were a few off notes being hit. Some DVDs wouldn't play, apparently due to anti-piracy software. As one particularly irate customer wrote, "I am so pissed!!! I have spent the whole day trying to get this to play in a LC-42bd80u with no luck!!!" Indeed.
Meanwhile, torrent pirates bragged that they, too, had set a record: "Avatar" is the most pirated Bluray movie ever (perhaps in part by frustrated customers). As "Ernesto" at TorrentFreak.com gloated, we've come a long way since "Ice Age 2" became the first Blu-ray to get BitTorrented: "Piracy was rampant but it has not hindered a film that has broken nearly all sales records in motion picture history. That must be somewhat reassuring for the film industry."
But the most fun side event was the unveiling of a real-world Pandoran Tree of Souls in London's Hyde Park — granted, only five meters tall, but it's the thought that counts. It was metal and plastic, with 20 miles of hanging fiber-optic fables; seen in scale with actor Stephen Lang in the front, it looks kind of dinky.
A few years ago, Christo and the late Jeanne-Claude embarked on one of their biggest projects, The Gates, the subject of a Maysles documentary. Their projects tend to make people uneasy, and — despite a fine track record — they must always prove that what they're trying to do isn't ecologically harmful. In transforming Central Park with a series of orange gates, they heightened the laid-out artifice of the place Manhattanites like to think of as the closest thing they have to nature, but they also made it a playground. It's the opposite of the fundamental paradox of "Avatar," which used megatons of technology to preach for nature and ecological conservation. It's a tension embodied in the very promotional tree: for every person who connected, wifi-wise, a real tree will be planted.
It's striking how such a silly concept, replicated at scale, could still bring people out — not just gawkers, but the guy who answered (in full make-up!) "Are you a Na'vi?" with "In a way, yes." Let's give appropriate credit to James Cameron for making it possible to entirely transform a physical space for some people not with years of planning and great expense, but with a cheap replica of something that's not real that's still more evocative for some.
[Photos: "Avatar," 20th Century Fox, 2009]