Film's shifting definition in the transmedia age.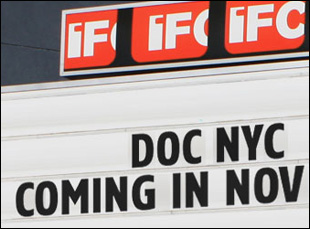 Posted by Stephen Saito on
As I was watching Jeff Deutchman's documentary "11/4/08" a few weeks back at SXSW, it occurred to me that his "consensual piece of cinema" — shot by professionals and amateurs on Obama's inauguration day and ending with a title card asking for more footage to be collected online via the film's website and eventually added onto the existing product — wasn't a film; it was some new hybrid of the medium in which the movie was only one piece of the puzzle.
With that in mind, "11/4/08" should most certainly be the one of the selections of the inaugural DOC NYC Festival, "New York's first and only festival celebrating documentary storytelling across the fields of film, photography, prose, radio and other innovative forms" curated by Thom Powers and Raphaela Neihausen, the minds behind the IFC Center's ongoing Stranger Than Fiction documentary series. There will be all the staples of a traditional film festival with panels, world premieres and retrospectives during the festival's November 3-7 run, but as Powers told All These Wonderful Things' AJ Schnack, "We very specifically did not call it a film festival."
Coincidentally, this news came on the heels of the Producers Guild announcement of the union's rare ratification of a new credit for their members to pursue: "Transmedia Producer," which for the majority of the public will mostly mean that those names you see on the bottom of movie posters just got a little bit longer. But for the movie industry, it marks a new way of recognizing that movies are no longer limited to what you're seeing on screen. The new tag applies to any "narrative project or franchise consist[ing] of three (or more) narrative storylines existing within the same fictional universe on any of the following platforms: Film, Television, Short Film, Broadband, Publishing, Comics, Animation, Mobile, Special Venues, DVD/Blu-ray/CD-ROM." (Understandably, marketers will not be allowed to apply for the credit, despite the fact that the viral campaigns for films like "Tron Legacy" are getting to be as narratively ambitious as what they're promoting — and scrutinized as such.)
Of course, the lack of an official title hasn't prevented filmmakers from going beyond the scope of their films in the past. Richard Kelly famously penned a prequel for "Southland Tales" and Zack Snyder, realizing he couldn't make a five-hour "Watchmen," went the animated route to tell the "Tales of the Black Freighter," which would eventually be reincorporated into his ultimate cut of the film on DVD.
Yet by turning what was once a luxury for multimedia-savvy filmmakers into a professionally recognized credit, the Producers Guild legitimized a whole new field for storytellers where film isn't the center of attention. Not surprisingly when Liz Shannon Miller at NewTeeVee collected professional opinions on the subject, the consensus emerged that the new "transmedia producer" credit would be likely applied most to franchises from the major studios, since they already are part of major conglomerations with the ability to compliment each other on a bunch of different platforms. However, it's the opposite end of the spectrum who could benefit from this most — artists who have long prized film as a medium but are burdened by budget and tight shooting schedules could be more encouraged to flesh out their stories elsewhere as as the stigma of parallel platforms subsides. (Joseph Gordon-Levitt's HitRecord.org is threatening to become a pioneer in this particular arena.)
It's not that transmedia is a new concept; movies, after all, are a collision of many different artforms and now can be seen in a variety of different ways. But between a festival and an official title in its honor, it's well on its way to becoming the text rather than being viewed as an addendum to it.
[Photos: Doc NYC, DocNYC.net, 2010; "Southland Tales: The Prequel Saga," Graphitti Designs, 2007]