The sun never sets on James Bond.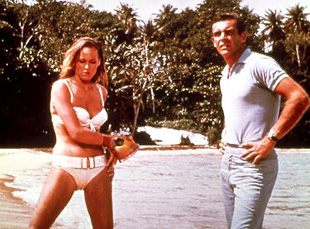 Posted by Vadim Rizov on
James Bond, as conceived by Ian Fleming those many years ago, was kind of a jerk, an ultra-masculine fantasy for those who never got over the decline of the British Empire. Writing about Fleming back in 1996, Anthony Lane noted the many overlaps between Bond's military background and Fleming's own time in the service, and the many ways in which the hard-smoking, hard-drinking, unapologetic and coldly womanizing man merged with his creator. "So what does Bond love?" he wondered. "The same things as Fleming, I guess: England, or England as it was, or an idea of England" (Bond blamed the decline of the British Empire in part on tea); "men without women in a London club, savoring their claret and losing their unearned money with good grace at the gaming tables." And so on.
It's safe to say that we, and Bond, have come a long way since then: over the years, the cinematic Bond has loved and lost, knocked off smoking and become less gratuitously racist and condescending. Bond was always fighting the Cold War with the mentality of a World War II vet — something that became less clear with time, as his birthdate kept getting pushed forward and his original traits receded into the background. Now all that really remains is a jacked-up sense of ripped masculinity and a brand name too valuable to let die.
That's what's interesting about the latest chatter about who could be the first black James Bond — an event that's probably years in the offing, seeing as only Will Smith can play an action hero and bring in the masses. (African-American films, by and large, are still ghettoized at the box office.) The first curiosity about this poll is that it's a reminder that Bond is still British, even if that really doesn't carry much resonance anymore. (The unscientific poll's number one choice? Grime rapper Dizzee Rascal. Try inviting an American audience to that movie.)
Still, the idea of a black 007 speaks to how far (thankfully) the character has come from his creator's conception. As he stands now, Bond is nothing more than a way to mark changes in how society wants its heroes (or, now, anti-heroes) to be rather than a psychologically coherent character.
[Photos: "Dr. No," MGM Home Entertainment, 1962; "Casino Royale," Sony Pictures Home Entertainment, 2005.]