"The Square" and "Everyone Else"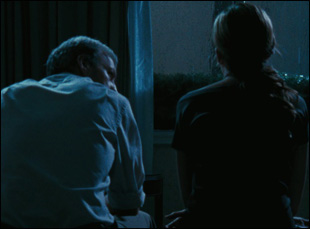 Posted by Bilge Ebiri on
Originality can be overrated. Nash Edgerton's Aussie thriller "The Square" doesn't really have an original bone in its body, and I'm not sure it needs to. It belongs to that well-worn noir subgenre of adulterous lovers attempting to make a break for it — "Blood Simple" is an obvious influence — but Edgerton eschews the stylized aggressiveness of earlier films for something more lived-in, if not exactly realistic.
By the end of the opening scene, in which we see Ray (David Roberts) and Carla (Claire van der Boom), both married (though not to each other) making love inside one car while their dogs watch from another, you can probably guess much of the rest of the plot. Ray is stuck in a bland suburban marriage, while Carla is stuck in a decidedly bleaker working-class arrangement: She suspects that her roughneck husband Smithy (Anthony Hayes) might actually be up to no good, as evidenced by the duffel bag full of cash stashed in the attic. Carla suggests to Ray that they take the money, burn her house down, and live happily ever after. And away we go — as we've done so many times before.
And yet…"The Square" works. For starters, Edgerton, a former stuntman, has genuine filmmaking chops. He can build tension up to almost comical levels, but he also has an eye for more offbeat moments. A scene where the arsonist, perched atop a hill, looks out over the small community of buildings laid out before him and sees his handiwork burning in the distance has a truly haunting quality.
But there's also a pointed everydayness to the film that resists the mythic overtures of genre (witness those dogs in the opening scene), resulting in something a lot more riveting than the umpteenth iteration of this familiar set-up would suggest. It makes sense that our lovers' scheme has little to do with killing Smithy (no postmen need ring here, thanks) and more with just taking his dough. Even so, Ray is in way over his head and knows it — indeed, he initially resists Carla's conspiring by correctly suggesting that he's not the kind of guy who does things like ransack people's houses.
To his eternal credit, Edgerton (who collaborated here with his brother Joel, who co-wrote and co-stars in the film) doesn't seem interested in watching a well-executed plan go gradually off the rails. Rather, the whole thing starts off a mess and quickly gets worse.
This is less a thriller of adultery than a kind of surreal nightmare, where the central attraction isn't the slow tightening of the noose but the snowballing clusterfuckery of our outmatched hero's predicament — more "After Hours" than "Double Indemnity."
True, the pleasures of this subgenre have often come from watching good men go bad, and Ray goes bad with the best of them. But even towards the end, as the bodies and the plot turns predictably pile up, we're still basically with him. His soul may be corrupted, but we can still see the bewildered suburban schlub who stumbled into this mess lurking just beneath the surface. His total inadequacy gives the film a strange energy all its own.